The current weather pattern across the country is one that is fairly typical of Spring. However, the results of that pattern are wintry weather in the Rockies and summer-like weather in the East. In the battlezone between the two there is plenty of severe weather, which is fairly typical of Spring.
An upper-level low pressure area will move out of the Pacific Northwest and into the nation's midsection over the next few days. While one surface low pressure area moves into the Upper Midwest today, a second one will develop east of the Rockies and move into the Plains states on Thursday. With cold air moving in behind the system, and warm, moist air flowing northward from the Gulf of Mexico ahead of it, strong to severe thunderstorms are likely again today, Thursday, and Friday across the Plains states.
Severe weather has plagued the nation's midsection for the past few days, with over 500 reports of severe weather between Monday and Tuesday. Nearly 30 tornadoes were reported, along with hail as large as softballs, and hundreds of reports of wind damage from gusts as high as 85 mph.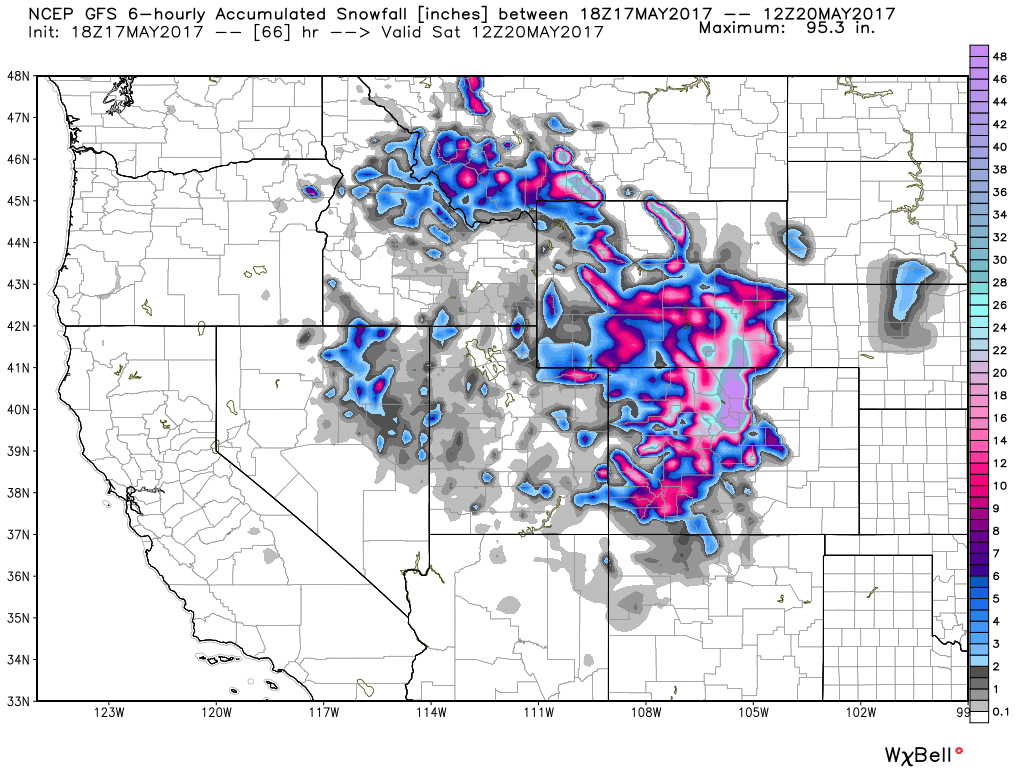 Behind the low pressure area, a late-season snowstorm is expected across the Rocky Mountains. Heavy snow will continue across portions of Montana and Idaho today, spreading into Wyoming and Colorado for Thursday into Friday. Across the higher elevations, totals of 1-3 feet are expected, which will keep the ski season going for a while longer. Snow may also spread into the High Plains of eastern Colorado and western Nebraska, with some minor accumulations possible. In Denver, it looks a couple of slushy inches may fall, though at least 1 model is forecasting much heavier amounts. In a normal year, Denver averages 1.7″ of snow, and the city has seen measurable snow during the month of May in 11 out of the last 16 years, so snow in May is not uncommon, though a heavy snowstorm, if it materializes, would be. Denver has only received 10 or more inches of snow in the month of May 6 times in a 135 years of records, with a record total of 15.5″ set back in May of 1898.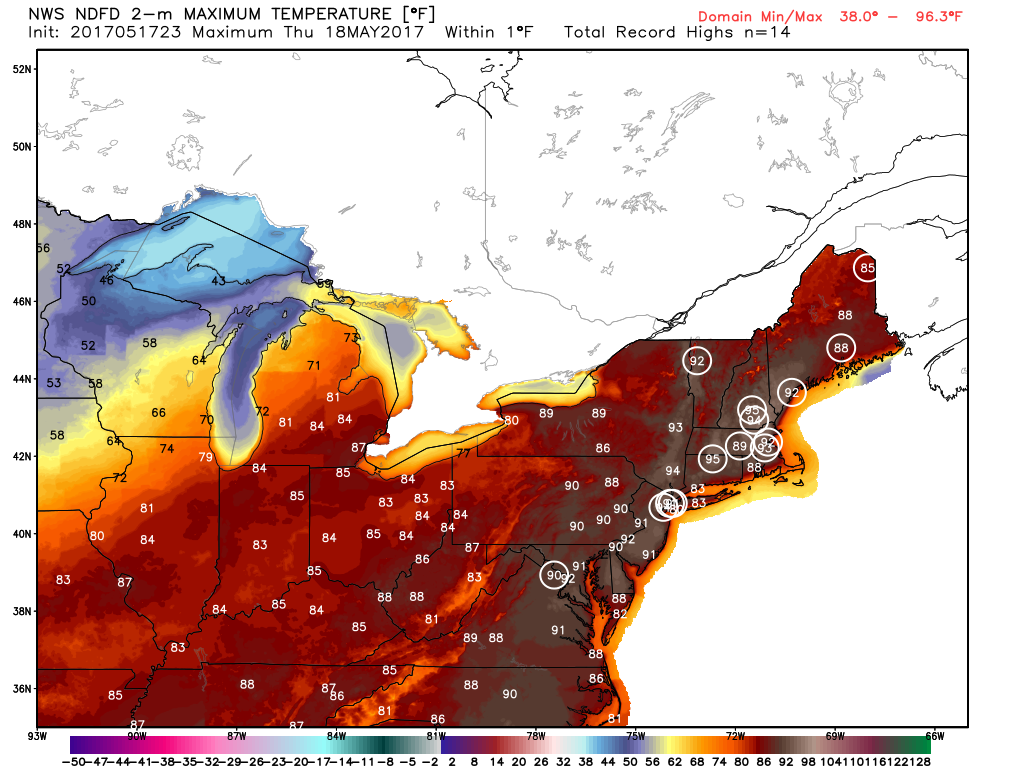 Meanwhile, in the East, an early taste of summer is ongoing, thanks to a ridge of high pressure aloft, and a surface high pressure area off the East Coast. Temperatures soared into the 80s and lower 90s on Wednesday, setting several records, but the hottest day for many locations will be Thursday. High temperatures will climb into the lower to middle 90s in many locations, likely breaking records across much of the region. When you combine the heat with dewpoints well into the 60s, it will definitely feel like a mid-summer afternoon across the region. A cold front will move through the area of Friday, possibly triggering a few showers and thunderstorms, but also sending temperatures back to where they should be in the middle of May.