After dominating the headlines for a week and a half, Harvey will finally bid adieu to the United States this weekend. However, Hurricane Irma is about to take center stage, and will likely remain in the spotlight for a while.
The remains of what was once Hurricane Harvey are moving into Kentucky this evening, producing some heavy rain and thunderstorms from the Ohio Valley into the Mid-Atlantic states. This rain shield will move into the Northeast for Saturday into Sunday. Additional rainfall totals will be under an inch in most locations, though some heavier totals are possible. Drier conditions will settle into Texas and the Mississippi Valley for the next few days, which will allow floodwaters to continue to recede.
While Harvey slowly fades away this weekend, all eyes will turn to Hurricane Irma. As of 5pm Friday, Irma was centered about 1500 miles east of the Leeward Islands, heading towards the west at 13 mph. after weakening a little early, Irma completed an "eyewall replacement cycle", and has resumed strengthening. Maximum sustained winds are near 120 mph, making it a Category 3 storm on the Saffir-Simpson scale.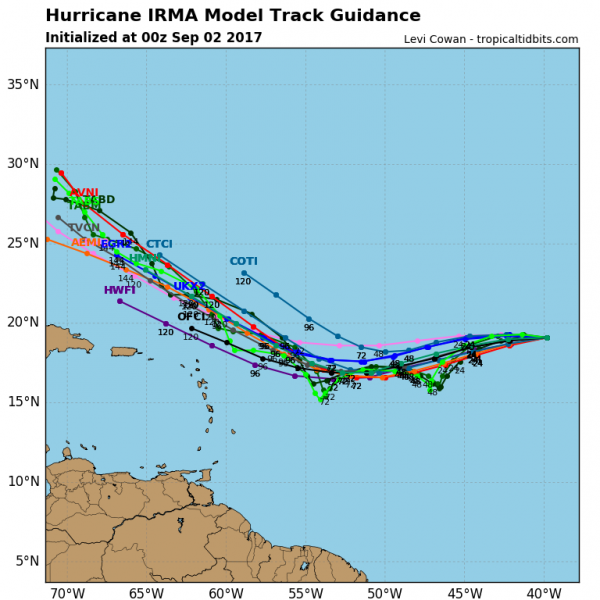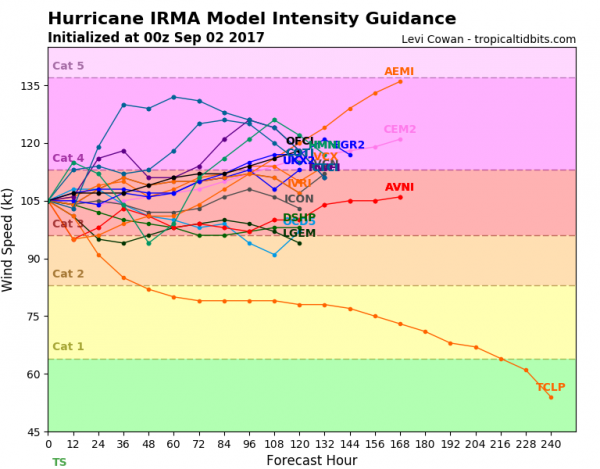 Irma's immediate future is fairly simple. It will turn a bit more towards the west-southwest this weekend then back towards the west and eventually west-northwest early next week. Wind shear will be relatively low, and water temperatures are warm, meaning that the storm should intensify, possibly becoming a Category 4 or even a Category 5 storm over the next few days. However, if Irma were to undergo another eyewall replacement cycle, it would weaken while that process takes place.
Once we get towards the middle of next week, the questions become a lot more numerous, and for most of them, there are no answers yet. The first question is, how close does Irma get to the islands of the northeastern Caribbean. Right now, most of the forecast models show the storm passing just north of the islands, which would result in just a glancing blow. However, this far out, these models typically can be in error by a couple of hundred miles, so Irma could easily be even farther north with little to no impact, or it could pass near or even south of the islands, which would result in a significant impact. Anyone with interests in this region should keep close tabs on Irma's progress over the weekend.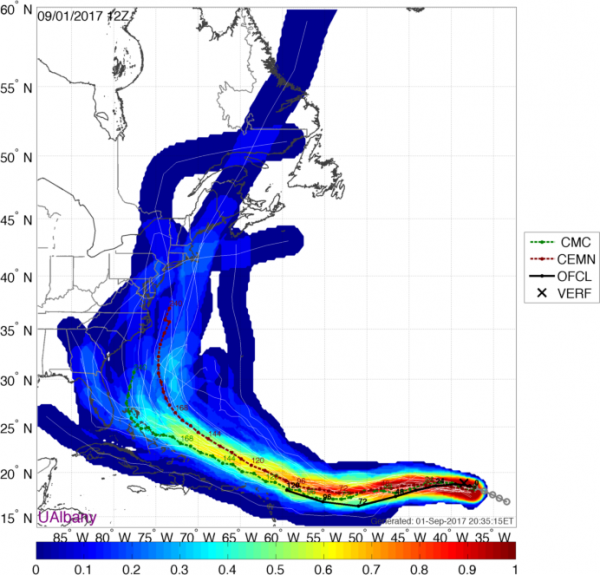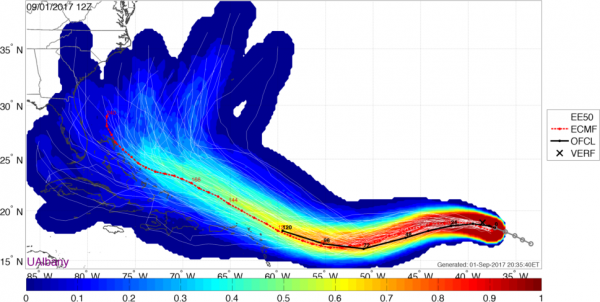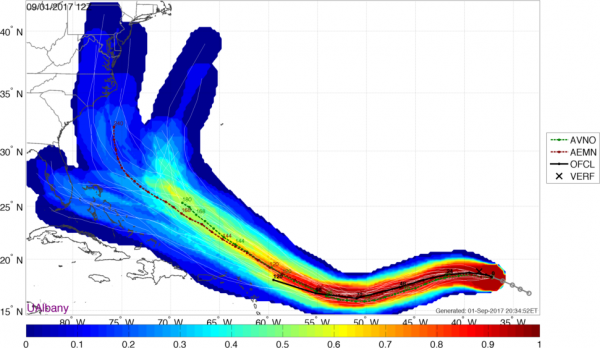 Once it gets past the northeastern Caribbean, things get even more murky. As you can see from the images above, different models have a wide variety of track forecasts. Some of the solutions include tracks across the islands of the northern Caribbean, into Florida and/or the eastern Gulf of Mexico, anywhere along the East Coast, into Atlantic Canada, or out to sea. Any of these tracks could be right, and there is simply no way to tell if any one of them has any more validity than any other one. Despite the hype machine already kicking into overdrive on the internet, there is simply no way to tell what, if any, impact Irma may have of any land areas. The best advice for now is to simply monitor Irma's progress. Irma is still at least 8-10 days away from having any potential impact on the United States. We probably won't have a better of idea as to whether Irma will be a threat or not until the early-to-middle portion of next week.