Tropical Storm Danny is the main weather story for today. However, after registering a category 3 rating for winds in a previous hurricane hunter recon mission, it is only a tropical storm and continues to decrease in strength. This is evidenced by the storm's central pressure rising to just above 1000 mb this afternoon, significantly higher than 2 days ago. While the forecast track is still a little uncertain, the current forecast from the National Hurricane Center (NHC) is for the storm to take a track to the west, just south of Puerto Rico overnight Monday. This is just after a recent track change from toward the northwest to toward the west. The storm will continue to weaken and should be a tropical depression after crossing the Leeward Islands according to NHC's forecast. Currently the NHC has posted Tropical Storm Warnings for Antigua, Barbuda, Montserrat, St. Kitts, Nevis and Anguilla and Tropical Storm Watches for Saba and St. Eustatius, St. Maarten, Puerto Rico, Vieques, Culebra, and the US Virgin Islands.
The storm itself is about 165 miles east-southeast of Guadeloupe and 210 miles east-southeast of Antigua. The maximum sustained winds within the storm are 40 MPH and will continue moving west at 16 MPH. Threats for this storm will be for rain from 2 to 4 inches of rain through Tuesday and wind up to tropical storm force in warned areas. A tropical storm watch means that tropical storm conditions are possible within the next 48 hours. However, a tropical storm warning means that tropical storm conditions are expected within the next 36 hours and action to prepare for for the storm should be taken.
The main problem with this storm, along with dry air nearby, has been that there has been a strong field of shear that has eroded the southwestern side of any strong thunderstorms.
Other systems are tagged by the NHC in the Atlantic Ocean closer to Africa. The one with the best chance of developing is located 800 miles west of the Cape Verde Islands and has a chance for development into a tropical depression toward mid-week. Whether it has any impact on land is yet to be determined. This system continues to move to the west at 20 MPH.
A storm just southeast of the East Coast is also tagged by the NHC with a possibility of development and is currently affecting portions of the East Coast with cloud cover and humidity at the very least. Showers and a few storms are moving inland to the US from the storm itself as well. This storm has 0% chance of development.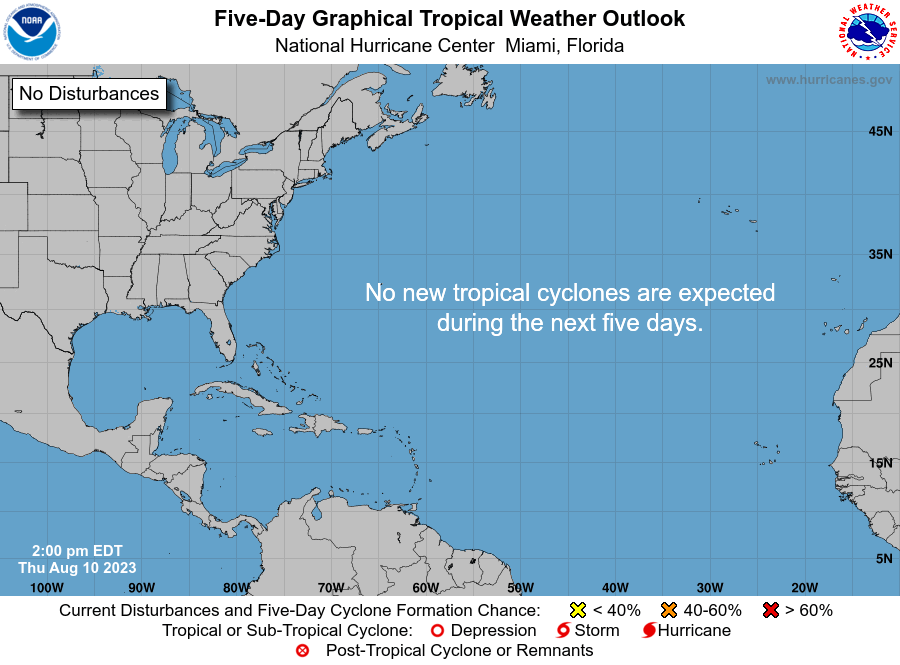 In addition to the tropical weather, severe weather is possible today as the front that produced severe weather over the Northern Plains yesterday moves over Michigan and portions of the Ohio River Valley today. A tornado or severe thunderstorm watch has not been issued over this area, however, strong winds, a tornado and hail are all possible with today's storms. It must be said that SPC's chances of the above threats over Michigan and portions of the Ohio River Valley are much lower than yesterday's.
Also, afternoon showers and storms with the threat of strong winds may occur over portions of Southeastern US. Similar to yesterday, strong winds follow the front and will reside around an adjacent low pressure system as hinted at by wind advisories over portions of the Northern Plains.
In addition, dry weather continues over portions of the Western United States and Alaska as forest fires continue to burn. Larger fires are in California, Washington, Idaho, Oregon and Montana. This year, according to the National Interagency Coordination Center, 7,448,217 acres are burning, which is above the year-to-date 10 year average of 5,350,800 acres. Much of this has been caused by warm and dry weather over the Western US along with thunderstorms that have a lack of rain, but plenty of fire-sparking lightning.
(As of August 23 2015)