A tropical system is expected to threaten the United States late this weekend and early next week. Unlike the past several days however, the state that is threatened is Hawaii, not Florida.
Hurricane Ignacio was centered about 550 miles east-southeast of Hilo, Hawaii at 2pm HST, moving toward the northwest at 9 mph. Maximum sustained winds were near 135 mph, making Ignacio a Category 4 Hurricane on the Saffir-Simpson Scale. Ignacio is expected to continue on a northwesterly track for the next few days, passing about 150 miles northeast of Hawaii Monday and Tuesday. It should gradually weaken as it approaches Hawaii.
A tropical storm watch has been issued for the Big Island. Although Ignacio will remain offshore, since it is a large storm, tropical storm force winds may impact the Big Island Sunday night and Monday. Heavy rainfall is likely, especially on the windward side of the islands, with totals of 3-6 inches possible.
Ignacio isn't the only tropical system being monitored in the Pacific. Hurricane Kilo and Hurricane Jimena are both over open waters.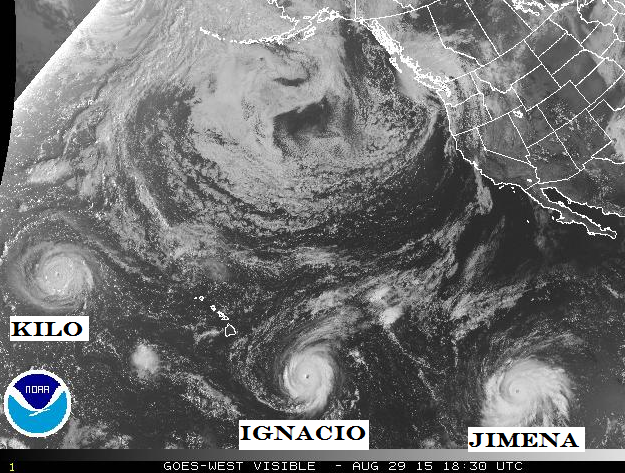 Kilo is centered about 400 miles west of Johnston Island, moving toward the west at 13 mph. It rapidly intensified Friday night and now has top winds near 125 mph. Some additional strengthening is possible over the next 24-36 hours as it turns more toward the northwest. Kilo should cross the International Date Line early next week, at which point it will be referred to as Typhoon Kilo.
Hurricane Jimena remains a powerful system in the Eastern Pacific with maximum sustained winds near 140 mph. As of 2pm PDT Saturday, Jimena was centered about 1300 miles west-southwest of Cabo San Lucas, Mexico, moving toward the west-northwest at 9 mph. Jimena is expected to continue on  this track for the next few days with some fluctuations in intensity possible. Jimena is not a threat to land at this time.
To the north, a storm system that is not tropical in nature is bringing heavy rain and very strong winds to the Pacific Northwest. Up to half an inch of rain has fallen in western portions of Washington, and another 1-2″ is expected through Sunday. The rain is welcome news as dozens of wildfires continue to burn across the state, and any rainfall will assist the firefighting effort. What's not welcome are the strong winds the storm is producing. Sustained winds of 30-50 mph have been reported, with gusts to 80 mph or higher.
Sustained #wind of 79 mph, with #gust to 87 on #DestructionIs. off #WA. #Coast. Fitting name for it. #wawx #windstorm

— NWS Seattle (@NWSSeattle) August 29, 2015
With the rain will come much cooler temperatures, which will also be welcome after a record-hot summer. Snow levels will drop to 8000 feet in the area, with several inches of snow possible across the higher peaks of the Cascades.
In the Atlantic, Tropical Storm Erika degenerated into an open wave earlier on Saturday. The combination of wind shear and the mountainous terrain of Hispaniola ripped the circulation apart. However, Erika's story may not be over yet. What's left of Erika will pass near or just south of Florida tonight and Sunday, bringing heavy rain and occasionally gusty winds to parts of Florida and Cuba. After that, it should move into the eastern Gulf of Mexico and turn more toward the north. Conditions should be more favorable in this region, and Erika could regenerate into a Tropical Storm early next week. Whether it redevelops or not, rainfall totals of 2-4 inches are expected across much of the Sunshine State through early next week. Flash flood watches are in effect for much of the region.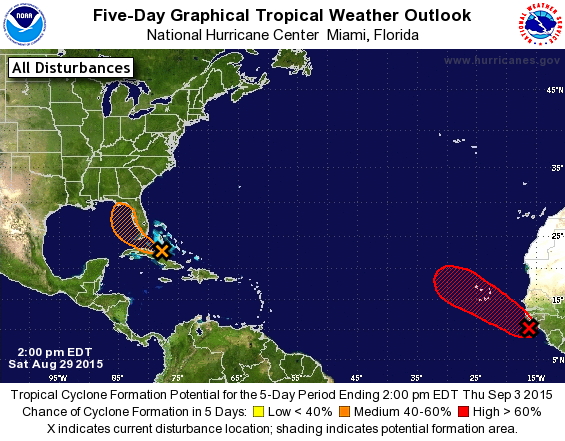 Well to the east, a well-defined tropical wave moved off the coast of Africa on Saturday. Conditions are favorable for development of this system, and it could become a tropical depression on Sunday. This system should head on a northwesterly track towards the Cape Verde Islands while slowly strengthening over the next few days.