The 2015 hurricane season has been rather slow thus far in the Atlantic, but things are starting to get a bit more active.
Tropical Depression 4 formed on Tuesday, and quickly became Tropical Storm Danny by Tuesday evening. As of midday Wednesday, Danny had top sustained winds of 50 mph and was located about 1400 miles east of the Lesser Antilles, heading westward at 12 mph. Most indications are that Danny should continue on a general west to west-northwest track for the next few days while steadily strengthening. Danny could become a hurricane later this week, and could start to threaten the Lesser Antilles by late this weekend or early next week. There is still a great amount of uncertainty in the track and intensity forecast, however, so residents of the islands in the eastern and northeastern Caribbean should keep a close eye on the storm for the next several days.
While tropical systems often produce wind damage and coastal flooding, there is one aspect of this storm that could actually be good news for parts of the Caribbean – heavy rainfall. With the tropics remaining quiet this year, the lack of thunderstorm activity has resulted in a severe drought across portions of Puerto Rico and the Virgin Islands. In St. Croix, USVI, only 7.31 inches of rain has fallen since January 1, which is 11.38 inches below normal. San Juan, PR has only received 20.73 inches of rain in 2015, which is 10.34 inches below normal. Too much rain in a short period of time will result in flooding, even with the ongoing drought, but residents of the region will likely take every drop they can get right now.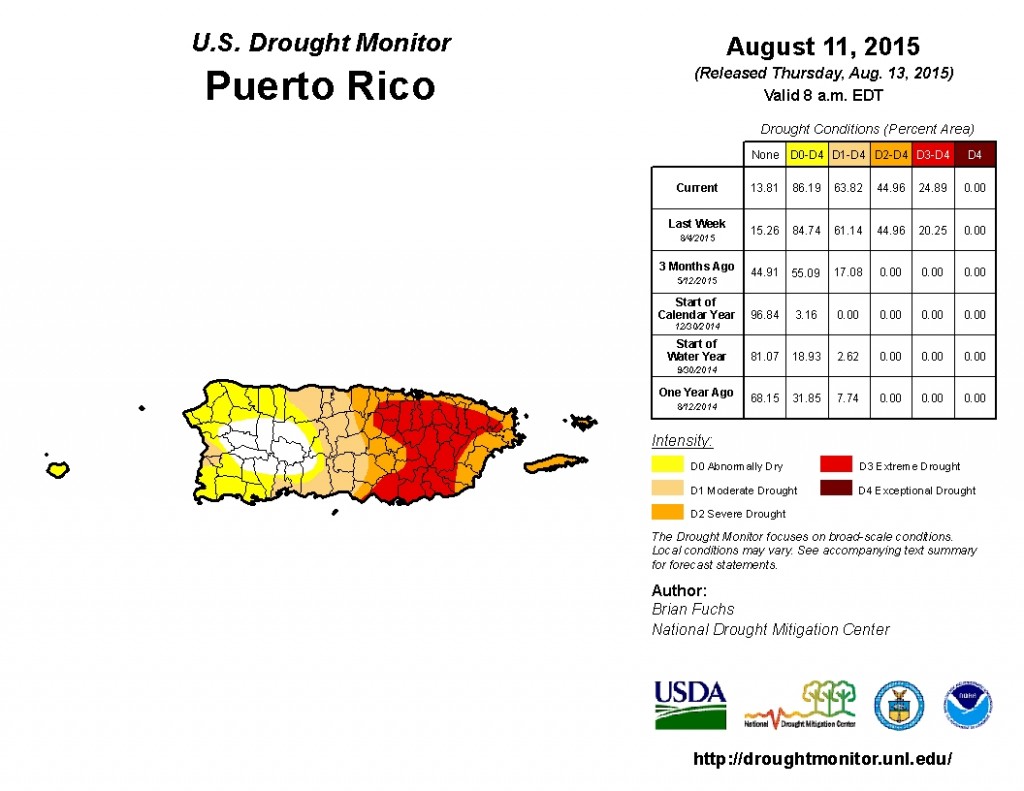 Meanwhile, in the Central Pacific Ocean, a tropical disturbance is gaining strength about 900 miles southeast of Hawaii. Many of the forecast models are indicating that this system should continue to strengthen, becoming a tropical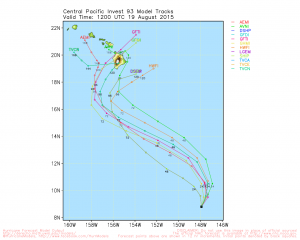 depression in the next day or two, then a tropical storm, and possibly a hurricane towards the end of the week. A track toward the northwest, in the general direction of the Big Island of Hawaii is expected. The system could impact Hawaii with gusty winds and heavy rain by the upcoming weekend.
While the Atlantic has been quiet, the Western Pacific has bee very active so far. Currently there are two large storm systems being monitored. Super Typhoon Atsani has top winds near 160 mph and is passing northeast of the Northern Mariana Islands. It will likely maintain its current strength for the next day or so before starting to weaken as it turns north and then northeast, passing out to sea well south and east of Japan.
Typhoon Goni could be a problem for parts of East and Southeast Asia. Goni currently has top winds near 130 mph and should strengthen a bit more. The current forecast has it near maximum intensity of 145 mph as it nears the northeastern tip of the Philippines. Once there, it should make a sharp turn towards the north, passing just east of Taiwan as it starts to weaken, then it may take aim at southwestern Japan.
The peak of hurricane season in the Atlantic and eastern Pacific is normally from late August into mid-to-late September. Even though it has been a fairly quiet season thus far in the Atlantic, it only takes one storm making landfall in a populated area to make it a bad season.