This article originally appeared on Bloomberg.com
Forecasters are watching Tropical Storm Joaquin as it strengthens in the Atlantic near the Bahamas to see if it will become a threat to the U.S. East Coast later this week.
Joaquin was about 425 miles (685 kilometers) east-northeast of the northwestern Bahamas with winds of 45 miles per hour, up from 40 mph, as of 11 a.m. East Coast time, the National Hurricane Center said in an advisory. It was moving west at 5 mph.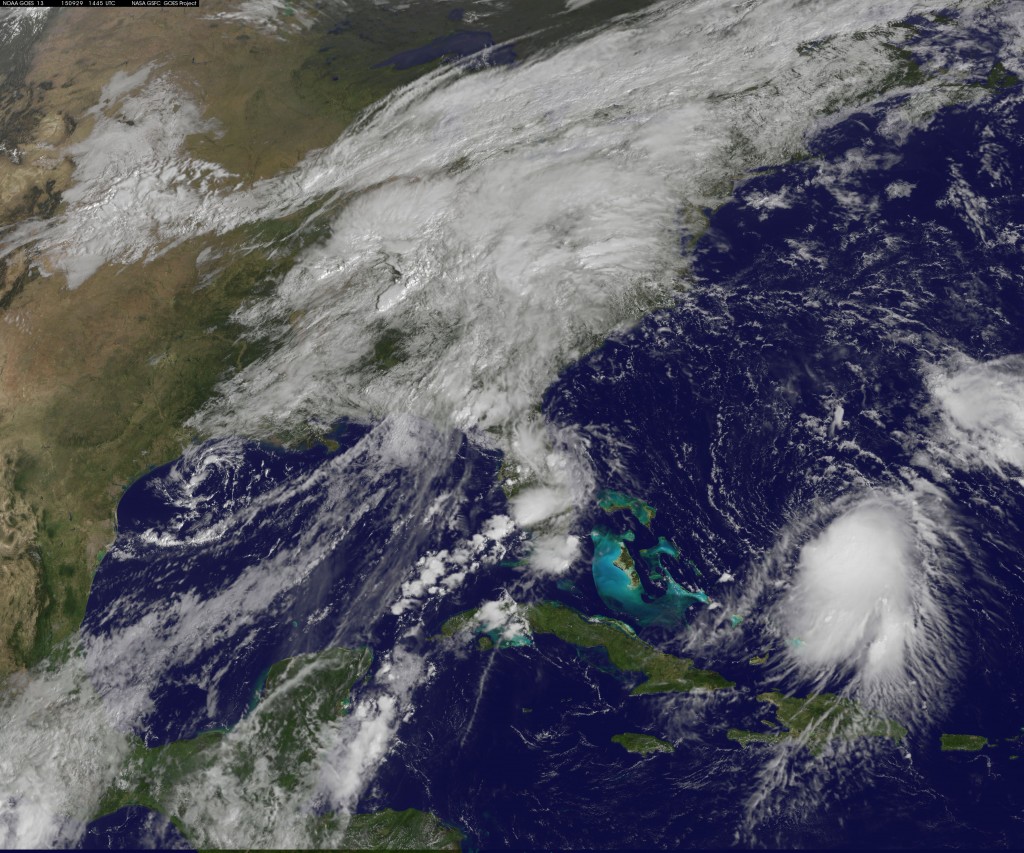 The storm has become better organized and will be entering an area of low wind shear that will allow it to strengthen further. The current forecast calls for it to have top winds of 70 mph by Friday, just below the threshold for a hurricane.
"The NHC wind speed predictions may be conservative, since some guidance suggests that Joaquin could become a hurricane in a few days," Senior Hurricane SpecialistRichard Pasch wrote in the center's forecast analysis.
Track Outlook
Joaquin is the 10th storm of the six-month Atlantic hurricane season that ends on Nov. 30. Current track outlooks call for it to move west toward the Bahamas, then parallel to the U.S. East Coast and be off the North Carolina coastline by Sunday.
Earlier, meteorologists at the center said computer forecast models are having trouble determining the strength of a low-pressure trough that is predicted to set up over the southeastern U.S. This weather pattern will help control where Joaquin will go.
How strong and well-organized Joaquin is will also determine its path and how it moves.
 "I think you are going to see a lot of run-to-run disparity in the models," said Rob Carolan, a meteorologist at Hometown Forecast Services Inc. in Nashua, New Hampshire.
Mixed Scenarios
Monday, some models called for the storm to drive itself into the East Coast. Carolan said that prediction has since faded. "Anyone who says they have any confidence in where it is going to go is lying to you."
Another possibility is for a frontal system moving across the eastern U.S. to absorb Joaquin and destroy it.
What is likely is that the U.S. Northeast, including New York, will get drenched from "fire-hose precipitation," Carolan said. This will be in addition to heavy rain falling on the area from other weather systems through Wednesday.
Through the next week, nearly 8 inches (20 centimeters) of rain is forecast to fall across northern New England, and about 7 inches in southern New York and northern New Jersey, the U.S. Weather Prediction Center said.
"I don't think Joaquin ends up being a wind event; I think the big concern is the rain," Carolan said.