A strong easterly wind in the low levels of the atmosphere has brought much-needed rainfall into the Southeast. In some places,the rain was heavy enough to result in flooding across eastern portions of North Carolina and South Carolina. Late Thursday night, low level winds briefly turned to the southeast providing spin in the atmosphere and allowing for an EF-2 tornado to occur in South Carolina. Numerous homes, buildings and trees were damaged as a result and roads were blocked before clean-up started. It is amazing that no injuries or fatalities were reported with this tornado after seeing the damage and knowing that it occurred overnight.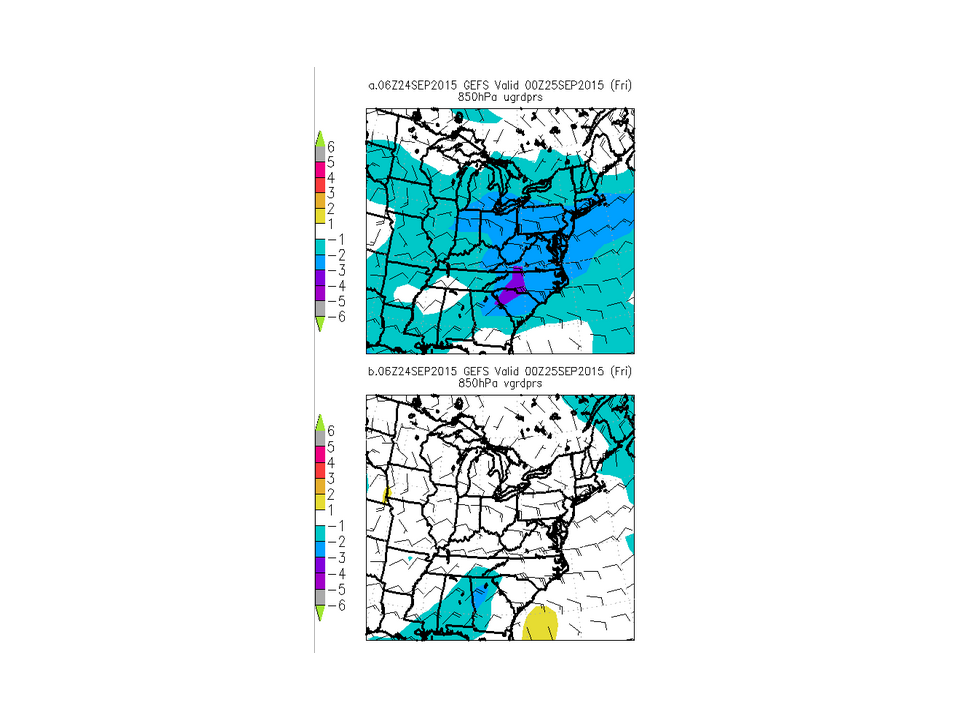 This area of strong easterly winds will continue to slowly move up the East Coast, and reside across the Mid-Atlantic states and the waters south of New England by late Tuesday as a departing high pressure clears the way for its northward movement. However, dry air that has been in place over Southern New England and more of a large scale shift to southerly winds ahead of an approaching cold front should allow for less intense rainfall as the strong easterly winds shift offshore.
Meanwhile, in the tropics, the Atlantic continues to remain active with Tropical Depression Ida centered about 1115 miles east-northeast of the northern Leeward Islands. as of late Saturday afternoon Currently, Ida has a large area of circulation, but the convection has been shoved east of its exposed low level center as a result of strong westerly shear. However, the shear is expected to lessen tomorrow and at least one model shows some strengthening possible. Other models indicated that Ida could dissipate over the next few days as a cold front starts to approach it from the west. Ida is currently moving northwestward at 8 mph today, but it is expected take a turn more toward the west-northwest tonight and then southwestward late tomorrow as an area of high pressure builds in north of the system. Elsewhere, an area of disturbed weather is expected to crossed Central America into the central Gulf of Mexico and interacts with a low pressure system nearby.There is a low chance that this could develop into a tropical system over the Gulf of Mexico early next week. A second area of disturbed weather is located across the western Atlantic Ocean, but upper level winds remain unfavorable for development and further development is unlikely at this time.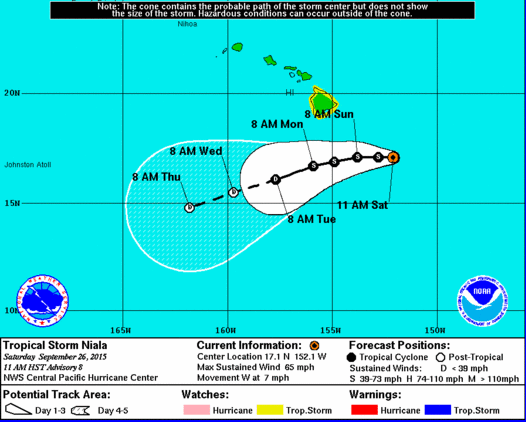 In the Central Pacific, Tropical Storm Niala was centered about 270 miles southeast of Hilo, Hawaii at midday. A tropical storm watch is in effect for the Big island of Hawaii as the storm approaches from the east. Niala is expected to pass south of the Islands, but possibly close enough to impact the Big Island. There is also the possibility that Niala could weaken fairly quickly, minimizing any impact on Hawaii. A turn to the southwest is then forecast over the next 36 to 48 hours.