A large majority of the nation is enjoying quiet weather this Sunday. The biggest exception is in the Southeast thanks to a developing low pressure system east of Georgia. The persistent easterly flow north of the system, combined with a strong high pressure area to the north, along with astronomically high tides. is producing flooding along the coast from the Mid-Atlantic states southward to Florida. A second area of low pressure is centered across the Gulf of Mexico. This will bring showers and thunderstorms to much of the Gulf Coast, and Deep South. Some of these storms could produce locally heavy rainfall as well.
Meanwhile, strong winds are noted across the Northern Plains ahead of a cold front. Wind gusts have exceeded 30-40 mph across portions of the region today. The front will cross the region tonight, with only a few showers expected in places. However, as the front moves farther to south and east in the coming days, expect showers and possible thunderstorms along it as it runs into warm/moist air. The place that looks the most conducive to severe weather tomorrow should be from the Western Plains into the Central Rockies.
In the Atlantic, an area of disturbed weather about 425 miles southwest of Bermuda is being monitored for tropical development. Conditions are favorable for additional development for the next day or two, but should become unfavorable beyond that. Another area that is being monitored for possible tropical development is located over the northeast Yucatan Peninsula this afternoon. This system is interacting with an upper-level low pressure system in the western Gulf of Mexico, producing scattered showers and thunderstorm. This system is expected to move north toward the northern Gulf over the next couple of days, but upper level winds are only marginally conducive for development. Whether or not tropical development occurs with this storm, it will likely produce heavy rainfall across the Gulf Coast and parts of the Southeast over the next several days.  Elsewhere in the Atlantic, Tropical Depression Ida dissipated about 1000 miles east of the Leeward islands this afternoon.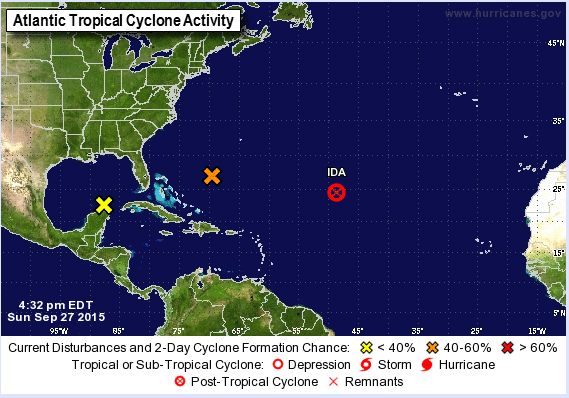 In the Eastern Pacific. Tropical Storm Marty is centered about 235 miles west-southwest of Acapulco, Mexico this afternoon, drifting toward the north at 3 mph. Some slight strengthen is expected over the next day or so before a weakening trend will likely commence. The forecast track for Marty contains some uncertainty, but due to its proximity to the Mexican coast, a Tropical Storm Watch has been issued from Acapulco to Lazaro Cardenas. Another area of storms about 1000 miles southwest of Cabo San Lucas, Mexico is being monitored for development this afternoon. Conditions aren't favorable for development at this time, but as it drifts northward or northeastward over the next few days, some development is possible.