Heat wave conditions are likely to build through the far West during the coming days while temperatures more in keeping with early fall settle into the mid-South region. This pattern will be brought about by a strong western ridge and a central U.S. trough. A strong ridge near the West Coast of the U.S. will allow heat to build northward into the Pacific Northwest and southwest Canada. At the same time an anomalously deep trough for mid summer will allow for summer polar air to drain southward from central Canada into the Plains and even the Deep South. The upper air jet stream flow forecast depicted for this coming Friday shows much more amplification than what is normal for this time of year.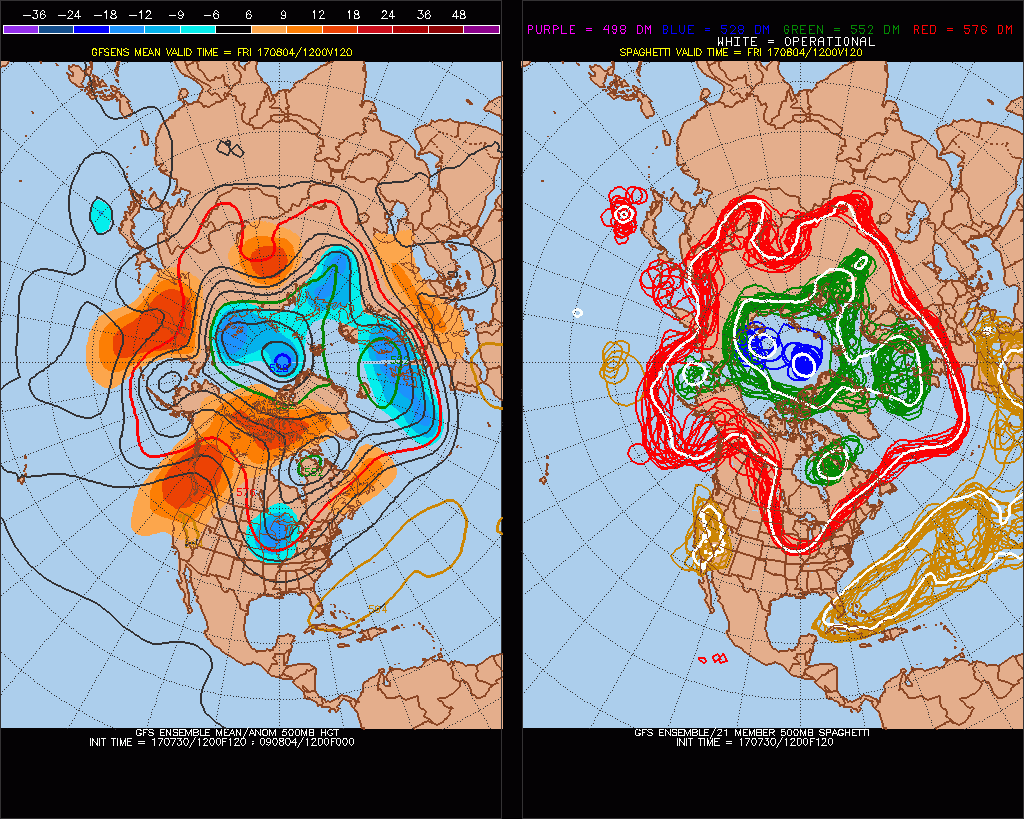 The accompanying 6-10 day forecast provided by the Climate Prediction Center takes on a look more in keeping for a season other than summer. A wide portion of the central and southern U.S. are forecast to see temperatures below normal if not well below normal. Normal high temperatures for many of these areas are in the low and mid 90s at this time of year but the refreshing push of polar air from southern Canada will keep temperatures in the 80s along with lower levels of humidity. In some cases temperatures may average as much as 10 to 15 degrees below normal for a few days during the first week of August through parts of the mid Mississippi and Tennessee Valleys. On the flip side, temperatures from California northward to Washington State are expected to average from 10-15 degrees above normal during this time with widespread coverage of triple digit high temperatures. This pattern will be prime for development of seasonal wildfires throughout the West some of which may be sparked by high based thunderstorms across the mountains.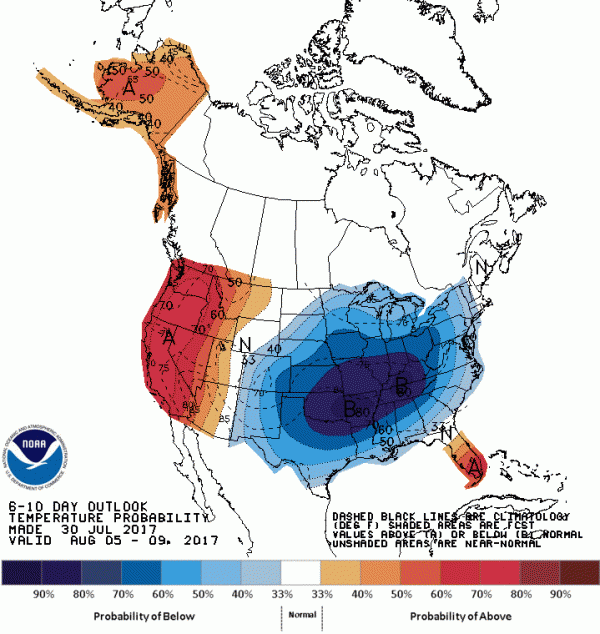 As we have seen earlier in this warm season the weather pattern is probably going to undergo changes after a few days of western heat and eastern chill. The summer weather pattern has been mostly transitional across the nation to date with most areas not getting stuck in any one extreme for very long. The forecast on the left side of the chart below is valid for August 16, 2017 and shows a reversal in the weather pattern. The spaghetti plot on the right side shows that most members are in agreement that the western ridge will be replaced by a trough while the idea of a ridge across the southern Plains to the Southeast appears to be most plausible. Assuming this forecast is in the ballpark we can expect western heat to diminish by mid August while heat and humidity return to the central and southeastern U.S.