A strong cold front will help to trigger strong to severe thunderstorms across portions of the Plains States and Mississippi Valley today. Showers and thunderstorms are already moving across parts of the North Dakota and Minnesota, with a few reports of hail up to one inch in diameter. As the front marches eastward, conditions will become more favorable for severe thunderstorms from the Upper Mississippi Valley into the Central and Southern Plains. The main threats are large hail, wind gusts to 70 mph or more and tornadoes.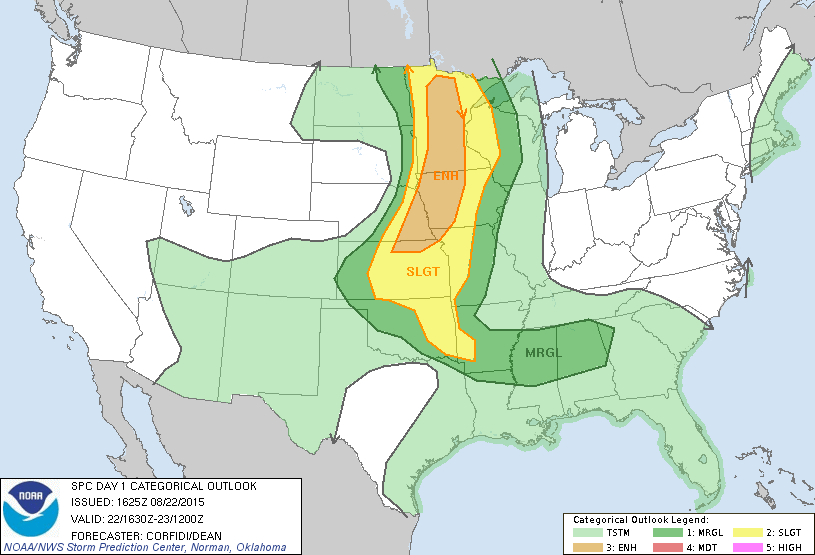 Behind the front, strong northwest winds will usher unseasonably cool air into the Northern and Central Rockies and western portions of the Plains states. Wind advisories and high wind warnings are in effect for much of the region as wind gusts of up to 50-60 mph are likely today and Sunday. Some record low temperatures are possible Sunday morning in parts of Montana, Wyoming, and western portions of the Dakotas and Nebraska as low temperatures are expected to tumble into the 30s and lower 40s. Frost advisories have been issued for parts of western Montana.
Meanwhile, Hurricane Danny is starting to steadily weaken while approaching the Caribbean. As early early Saturday afternoon Danny was centered a little more than 600 miles east of the Leeward Islands, moving toward the west-northwest at 12 mph. After peaking as a Category 3 hurricane on Friday with winds near 115 mph, dry air and increasing wind shear have weakened Danny to a Category 1 with top winds near 85 mph, and additional weakening is expected. Tropical Storm Watches have been issued for much of the Northeastern Caribbean, including the islands of Antigua, Anguilla, Barbuda, Montserrat, St. Kitts, Nevis, Saba, St. Eustasius, St. Maarten, Guadeloupe, St. Barthelemy, and St. Martin. A tropical storm watch means that tropical storm conditions are possible within the next 48 hours.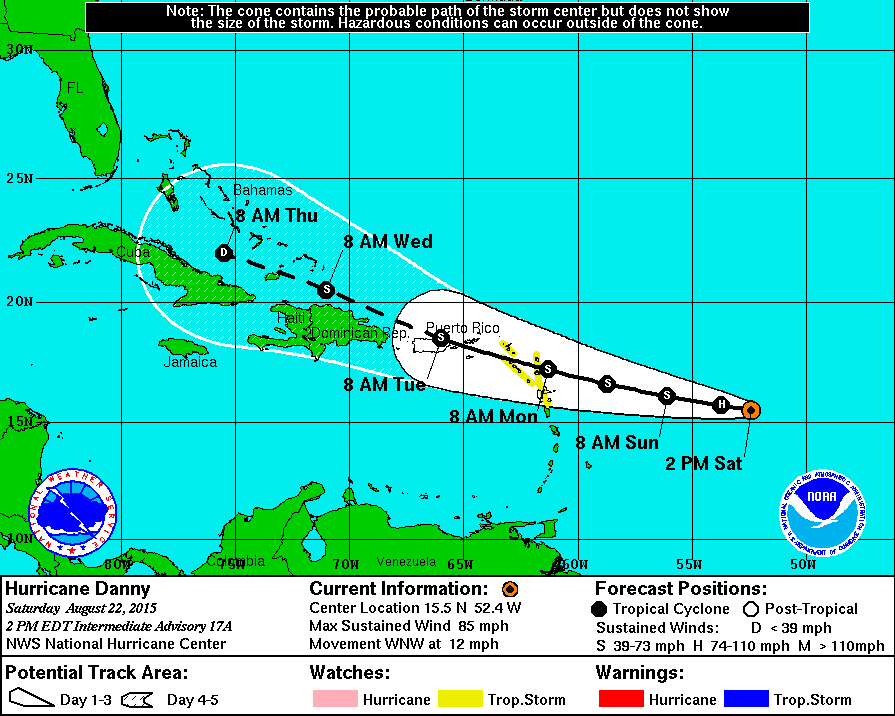 Danny is expected to weaken into a tropical storm before crossing the islands. It should continue to weaken as it moves towards the US Virgin Islands and Puerto Rico. Some of the forecast models are showing the possibility that it could dissipate as it nears Puerto Rico. Others keep it as a very weak storm which then moves near Hispaniola and into the Bahamas, where conditions could become more favorable for it to start to strengthen again.
While the future track and strength are still very uncertain, one thing that is more likely is that Danny will bring beneficial rainfall to portions of the US Virgin Islands and Puerto Rico. The region has been in the midst of a severe drought for much of the year, with less than half of the normal yearly rainfall in some areas. While Danny won't bring drought-busting rainfall to the region, every little bit that falls is beneficial.
Elsewhere in the Atlantic, a weak area of low pressure about 150-200 miles north-northwest of Bermuda will likely head out to sea over the next few days. There is a slight chance it could acquire tropical characteristics and become a tropical storm, but this seems unlikely. Much farther to the southeast, a tropical wave passing south of the Cape Verde Islands is producing disorganized shower and thunderstorm activity. As it crosses the Atlantic over the next several days, conditions should become more favorable for the system to develop. Yet another tropical wave will move off the Coast of Africa this weekend. This system could also start to get better organized as it crosses the Atlantic over the next week.
In the Central Pacific, both Kilo and Loke weakened to Tropical Depressions overnight, but they should both re-strengthen into tropical storms over the next day or two. Loke should remain a tropical storm while heading northward, possibly impacting Midway Island early next week. Kilo is the more immediate threat. Kilo should head northwestward while slowly strengthening over the next 24 hours. Sometime after that, a turn toward the north and eventually northeast is expected. Exactly where the storm makes the turn is critical to determining if there is a threat to parts of Hawaii. Right now it looks like there will only be a threaat to some of the westernmost islands, but if it turns earlier, that will change things. Conditions are favorable for Kilo to become a hurricane early next week.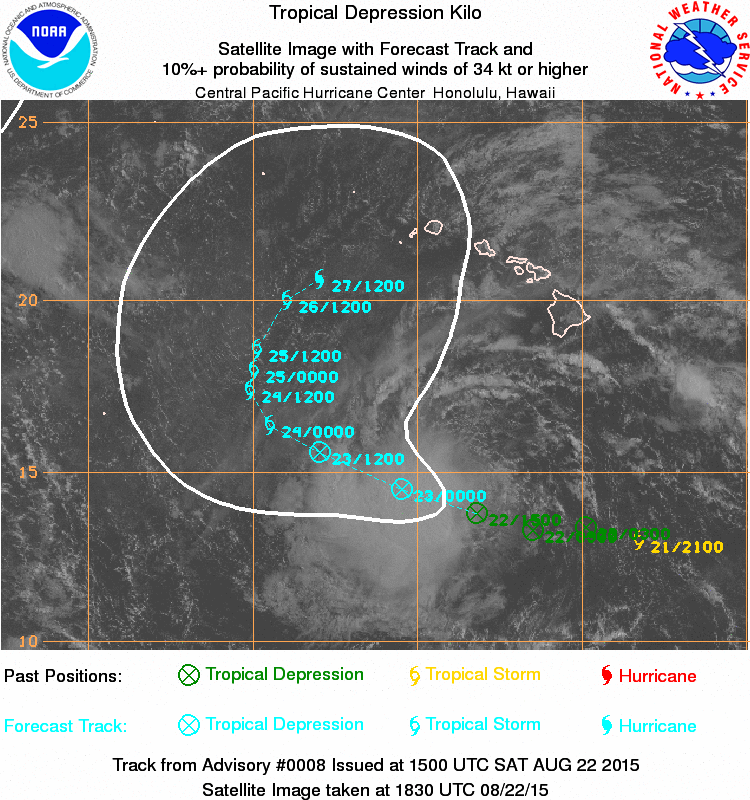 Farther west, there are still two typhoons in the Western Pacific Ocean. Typhoon Atsani is expected to steadily weaken while heading out to sea well south and east of Japan. Tyhpoon Goni will bring gusty winds and heavy rain to parts of Taiwan today, before setting its sights on Okinawa and southwestern Japan tomorrow and Monday.