Historic rainfall has fallen across portions of the Southeast and Mid-Atlantic states over the past few days. Unfortunately, the combination  of strong onshore winds, a convergence boundary and tropical moisture from offshore Hurricane Joaquin will produce even more rainfall into Monday. From start to finish, some places in the Southeast could see up 15 to 20 or more inches of rain from this event. In South Carolina, the 24 hour record for rainfall is 14.88 inches. Strong winds have been another piece of this storm, but not as noteworthy as the rain and flooding. There were numerous reports of trees down while wind gusts were between 35 and 45 mph in North and South Carolina Saturday morning.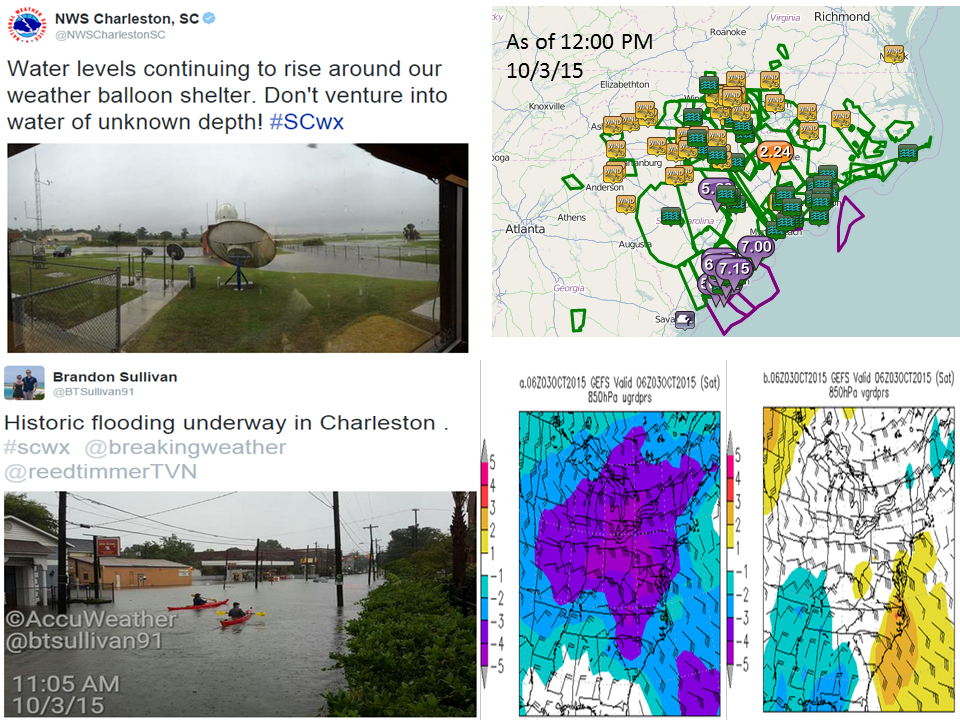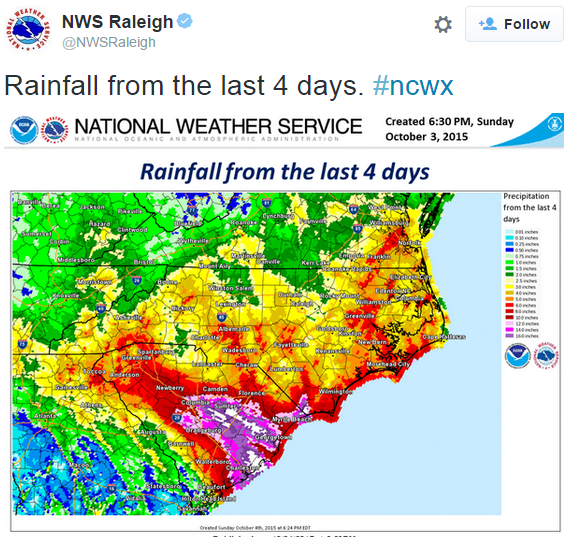 In the Atlantic, Hurricane Joaquin is moving to the north-northeast at 14 mph, past Bermuda where its eye has begun to appear on the Bermuda radar. It is expected to pass around 70 miles west of Bermuda and the latest aircraft recon report showed a wind of close to 110 mph in the storm. Two different systems will help define the flow for the storm's movement over the next few days as a low pressure system to the west and a high pressure system to the east allow for a north-northeast path, with a turn more toward the northeast expected on Monday. Then, an acceleration to the east-northeast is forecast, taking it away from the United States. Along its track, it will encounter increasing shear over the next two days while the environment becomes increasing drier. With these in mind, a decrease in intensity for the storm is forecast for the next 48 hours. After that, an extratropical transition is expected to occur by the middle of the week, allowing for further weakening as it reaches an area of very strong shear and cooler water temperatures.
Two other areas warrant watching in the Atlantic. One is several hundred miles southwest of the Cape Verde Islands and has a large area of disorganized showers and thunderstorms. Upper level winds are not conducive at the moment, so any development this week would be slow at best. The second is even weaker than the first, and is located about 800 miles east-southeast of Bermuda. Environmental conditions are becoming less conducive for development with Hurricane Joaquin nearby. Therefore, development of this system is not anticipated.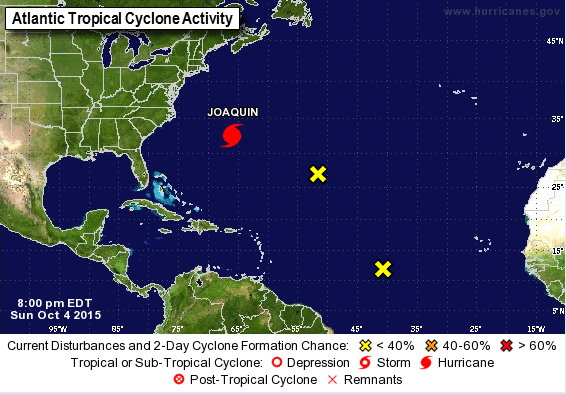 The Eastern Pacific contains the tropical system that is the biggest threat to the United States. Tropical Storm Oho is located about 565 miles south-southeast of Honolulu, Hawaii, or 375 miles south of South Point, Hawaii. It is drifting toward the north at just 2 mph, and has maximum sustained winds of 40 mph. A turn to the north and then northeast with an increase in forward speed is expected on Monday and for the foreseeable future as a high pressure system to the north breaks down and allows for more southwesterly steering flow. The storm will be fighting through shear, but will have warm sea surface temperatures to tap into, ahead of stronger shear towards mid-week, which should lead to a weakening trend. Farther to the west, Tropical Cyclone Eight-C has become post tropical about 450 miles south-southwest of Johnston Island. It has sustained winds of 30 mph and is moving northwest at 3 mph. The remnants of this system are expected to head out over the open waters of the Central Pacific Ocean.