The remains of Tropical Storm Bill will move across the Ohio Valley and into the Mid-Atlantic states this weekend before finally moving offshore. The storm, combined with a cold front dropping down from the north will bring locally heavy rainfall to an area that needs it.
Despite heavy snow this past winter, much of the Northeast and Ohio Valley are experiencing a drought as we head into summer. Moderate drought conditions exist across southern portions of Indiana and Ohio, as well as northern Kentucky. Moderate drought conditions are also noted across much of central and southern New England and eastern New York.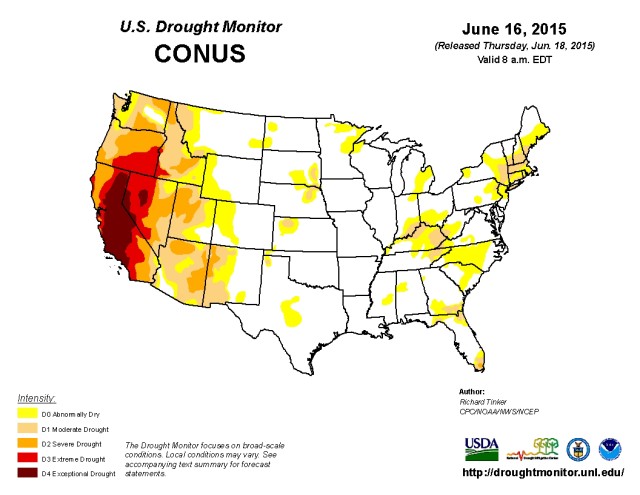 While this weekend's rains won't be enough to bust the drought, they will certainly help, especially across the Ohio Valley, where 1 to 3 inches of rain is expected. Flood watches have been posted for much of the area. In the Northeast, rainfall totals of up to an inch are expected, which will certainly help, but the heaviest rain is likely to stay south of the region.
Tropical Storm Bill made landfall near Matagorda Island, Texas late Tuesday morning with maximum sustained winds near 60 mph. The winds quickly diminished once the storm moved inland, but a swath of heavy rain has resulted in widespread flooding from eastern and northern Texas across Oklahoma and into portions of Arkansas and Missouri over the past several days.
Rainfall totals associated with Tropical Storm Bill over the past 5 days:
| | |
| --- | --- |
| Healdton, Oklahoma | 12.53″ |
| Montague, Texas | 12.50″ |
| Alice, Texas | 9.03″ |
| Peru, Indiana | 6.72″ |
| Corpus Christi, Texas | 6.14″ |
| Springfield, Missouri | 5.50″ |
| Belleville, Illinois | 5.01″ |
| Shreveport, Louisiana | 4.79″ |
| Fort Wayne, Indiana | 4.53″ |
| Oklahoma City, Oklahoma | 2.64″ |
| Houston, Texas | 2.51″ |
| Fort Worth, Texas | 2.34″ |
A much drier weather pattern is shaping up for the Southern Plains, which will allow rivers swollen from the heavy rains of May and June to slowly recede over the next week. Seasonably hot weather will move back in with high temperatures in the 90s for much of the upcoming week.