We're in the peak of hurricane season now, and as you'd expect, the tropics are getting active, with two tropical storms and a hurricane in the Atlantic, but the biggest threat to land is not the one that's been advertised for the past few days.
With Irma dissipating over land a few days ago, Jose was the only active tropical system in the Atlantic for a few days, and thus grabbed most of the attention while it was completing a small loop a few hundred miles east of the Bahamas. It weakened to a tropical storm, but has since restrengthened into a hurricane. As of 5pm Saturday, it was centered a little less than 500 miles south-southeast of Cape Hatteras, NC with maximum sustained winds near 80 mph. It was moving towards the north at about 6 mph. The forecast for Jose for the next 48 hours is fairly easy. It will continue to head northward around the edge of a large high pressure area. While it remains over very warm water, there is still plenty of wind shear aloft, and the wind shear will counteract the warm water, preventing much, if any, additional intensification. It will produce rough seas for much of the western Atlantic, and also create a high risk of rip currents from New England to the Carolinas.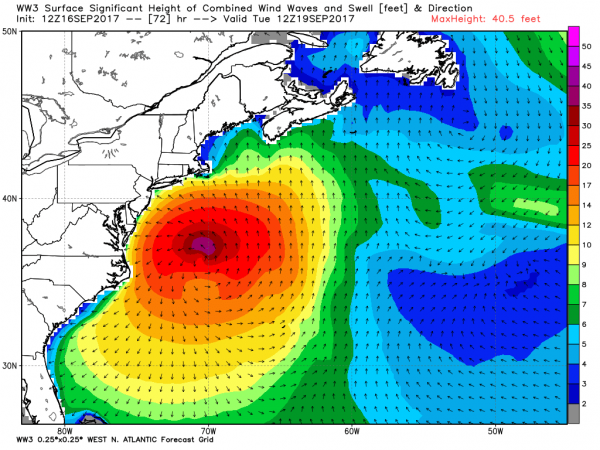 By Tuesday, Jose will start to move over colder waters as it passes north of the Gulf Stream, so it should start to weaken. At the same time, it will start to encounter westerly winds aloft, which will turn it more towards the northeast and eventually east. On this track, the center should pass about 100 to 150 miles south and east of Cape Cod as a weakening tropical storm. By this point, the storm may not even be completely tropical any more, and starting the transition into an extratropical system. It will pass close enough to bring gusty winds and some rainfall into southeastern portions of New England, but the impacts will be similar to a fall nor'easter across the region. The biggest impacts will be across Cape Cod, where some wind gusts in excess of 60 mph are possible. Coastal flooding will also be an issue, as tides are running high this week with the New Moon on Wednesday. Rainfall totals of 1-3 inches and locally heavier shouldn't cause any flooding issues, and will actually be beneficial, as some parts of the region have been dry lately, with some drought conditions starting to reappear.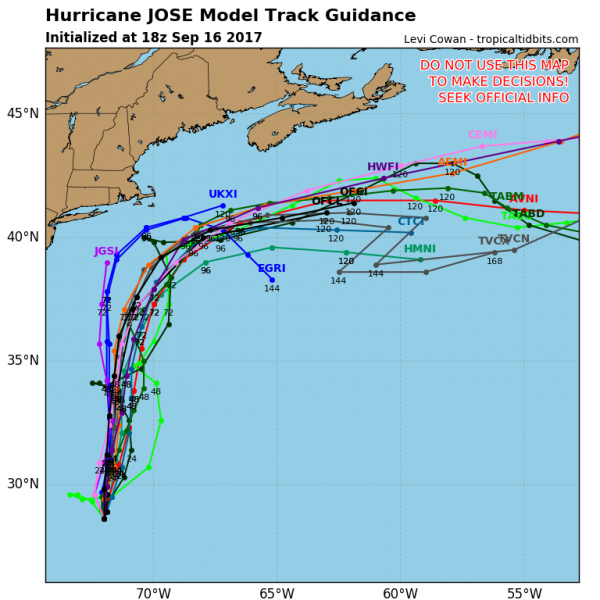 Well out in the Atlantic is Tropical Storm Lee. As of 5pm Saturday, Lee was centered about 720 miles west-southwest of the Cape Verde Islands, moving towards the west at 10 mph. Lee has maximum sustained winds near 40 mph. Lee is expected to continue on a general west to west-northwest track for the next few days. While some modest strengthening is possible over the next day or two, the long-term outlook is for Lee to weaken by early next week, and probably dissipate over the open waters of the central Atlantic, well away from any land areas.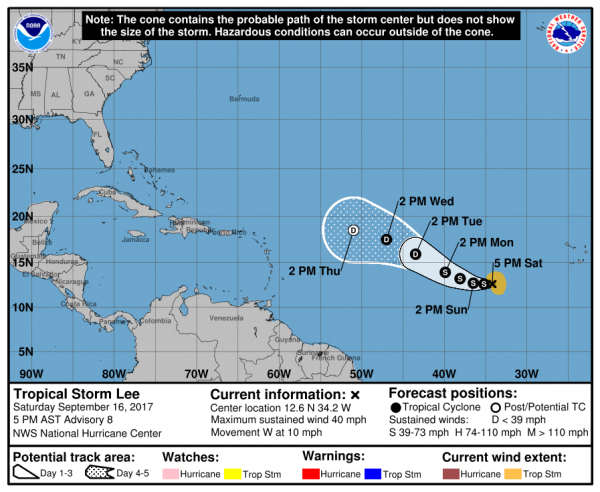 While Jose has been grabbing the headlines, and Lee remains weak, Tropical Storm Maria has formed east of the Lesser Antilles, and this storm will likely grab most of the attention over the next few days, especially after Jose starts to move away from the East Coast.
Tropical Storm Maria formed Saturday afternoon east of the Lesser Antilles. As of 5pm Saturday, it was centered about 620 miles east-southeast of the Lesser Antilles, moving towards the west at 20 mph. Maximum sustained winds are near 50 mph, and additional strengthening is expected. Maria could become a hurricane on Sunday. A hurricane watch has already been issued for the islands of Antigua, Barbuda, St. Kitts, Nevis, and Montserrat, with a tropical storm watch in effect for the islands of St. Lucia, Martinique, Guadeloupe, Dominica, Barbados, St. Vincent, and the Grenadines. Additional watches and warnings are likely to be issued tonight and Sunday.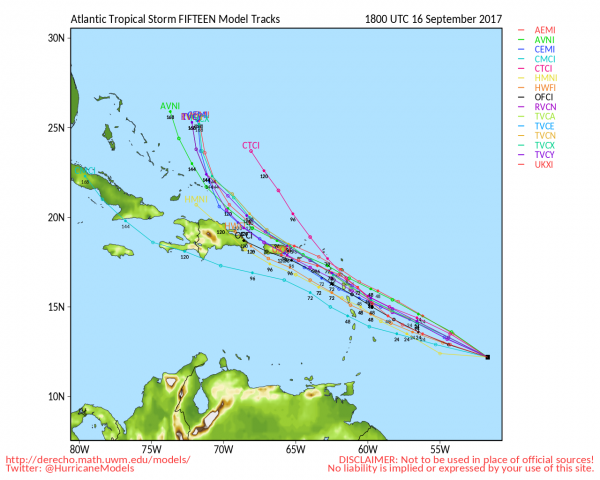 Maria is expected to cross the Lesser Antilles as a hurricane on Monday. It should pass farther south than Irma, which will spare the islands that were devastated from another direct hit. Once it gets past the Antilles, it will turn more towards the northwest, and head towards the Virgin Islands and Puerto Rico for Tuesday into Wednesday. It could become a strong hurricane by this point, so residents on this region, still trying to cleanup after Irma, need to play close attention to Maria.