After bringing gusty winds and flooding rains to portions of the Lesser Antilles, Virgin Islands, and Puerto Rico, Erika is passing south of Hispaniola this afternoon. As of 2pm EDT, Erika was centered just off the south coast of the Dominican Republic, and still stubbornly heading westward at 16 mph.
Erika remains weak, with maximum sustained winds near 50 mph. Strong wind shear and its proximity to the mountainous terrain of the Dominican Republic are keepING the storm weak.
For several days, computer models have been forecasting Erika to turn toward the west-northwest and eventually northwest, around a ridge of high pressure anchored over the central Atlantic Ocean. Erika has defied the models, and continues moving toward the west. As Erika nears the western edge of the high pressure ridge, and a trough of low pressure enters the Gulf of Mexico, Erika should finally start to turn more towards the northwest over the next 24 hours. Eventually, a turn toward the north should happen, bringing Erika closer to the state of Florida. Since Erika has traveled much farther to the west than anticipated, the risk to the Southeast has been greatly diminished. The main question now is – what part of Florida is at the greatest risk?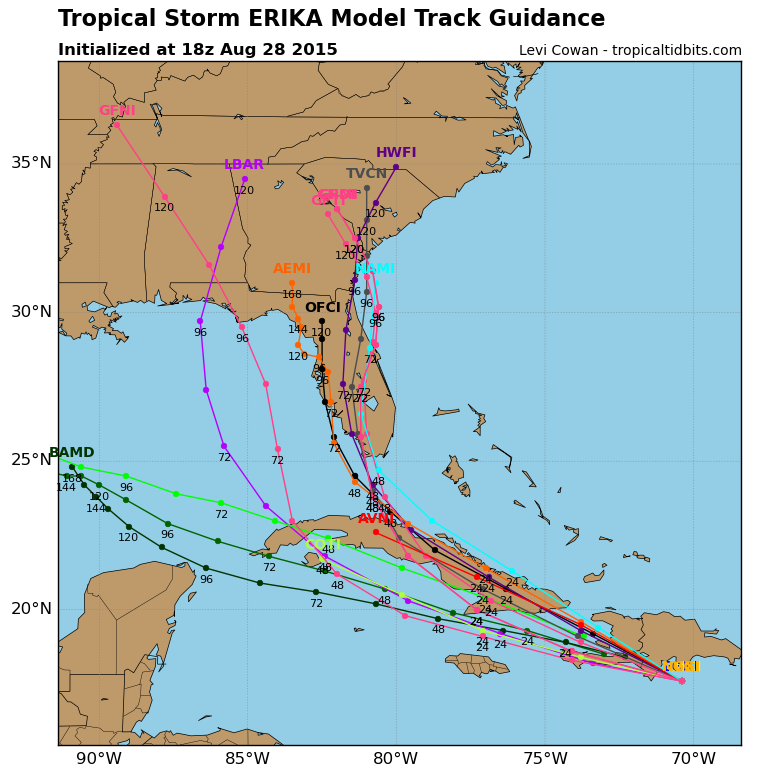 Most of the models are now showing a threat to the Gulf Coast of Florida. However, most of these models also show Erika spending a lot of time over parts of Hispaniola and/or Cuba. Tropical systems depend on warm water (over 26 degrees C) to maintain their strength. A track over land could result in the dissipation of Erika before it even reaches Florida. Of the models that do keep the circulation of Erika intact, most of them keep it at tropical storm strength. As a result, it appears as though the biggest threat to Florida would be heavy rainfall and flooding. This is both good and bad, depending on which part of Florida you are talking about. Much of South Florida is in a severe drought, so rainfall would be welcome across the area. Meanwhile, the west coast of Florida, especially near Tampa Bay, has seen severe flooding and record rainfall this summer, so additional heavy rain would not be welcomed.
Erika has also produced flooding across portions of the eastern Caribbean. Over 12 inches of rain was reported in Dominica, with devastating flooding resulting in at least 12 deaths on the island. Across Puerto Rico and the Virgin Islands, which have also been in a severe drought this year, rainfall totals were mainly under 2 inches. Erika did produce strong winds across the region, however. Some of the highest reported winds were as follows:
| | | |
| --- | --- | --- |
| Location | Peak Sustained Wind | Peak Wind Gust |
| St. Croix, US Virgin Islands | 38 mph | 62 mph |
| Sint Maarten, Netherlands Antilles | 36 mph | 52 mph |
| St. Thomas, US Virgin Islands | 33 mph | 48 mph |
| Santo Domingo, Dominican Republic | 25 mph | 43 mph |
| Guadeloupe | 25 mph | 40 mph |
| Punta Cana, Dominican Republic | 25 mph | 40 mph |
Elsewhere in the Atlantic, a tropical wave will move off the coast of Africa this weekend, and conditions could be favorable for it to slowly develop as it makes its way across the ocean.
The Pacific, especially the Central Pacific, remains active. Tropical Storm Kilo is centered about 160 miles west-northwest of Johnston Island, moving toward the west at 10 mph. Maximum sustained winds are near 70 mph, and additional strengthening is expected. A tropical storm warning is in effect for Johnston Island, but conditions should start to improve over the next 12-24 hours as Kilo pulls away. Kilo is expected to turn more towards the northwest and strengthen into a hurricane as it heads across open waters towards the International Date Line.
Hurricane Ignacio is centered about 840 miles east-southeast of Hilo, Hawaii, moving toward the west-northwest at 10 mph. Maximum sustained winds are near 90 mph, and some additional strengthening is expected over the next 24-36 hours. After that, Ignacio should start to weaken and continue west-northwestward. The current track brings Ignacio just north of the Hawaiian Islands early next week. Residents of Hawaii should monitor Ignacio's progress this weekend.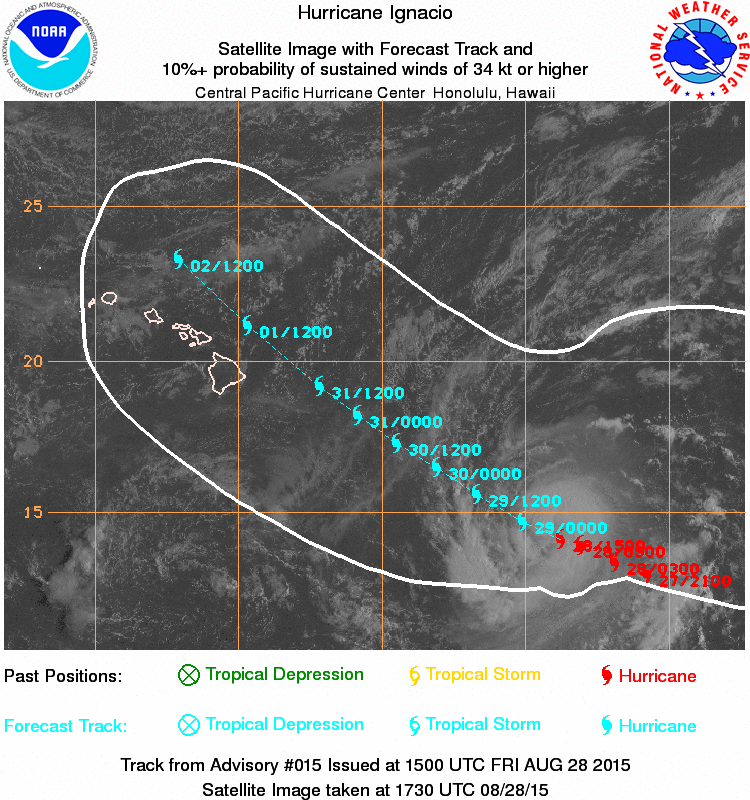 In the Eastern Pacific, Hurricane Jimena is centered about 1075 miles southwest of Cabo San Lucas, Mexico, moving toward the west at 12 mph. Maximum sustained winds are near 90 mph, and Jimena could strengthen into a major hurricane over the next 24-48 hours. Jimena will remain over open waters, and is no threat to any land areas.