The last few weeks have felt a lot like a Hollywood disaster movie, but not only have the disasters been real, they're going to get worse in the next few days.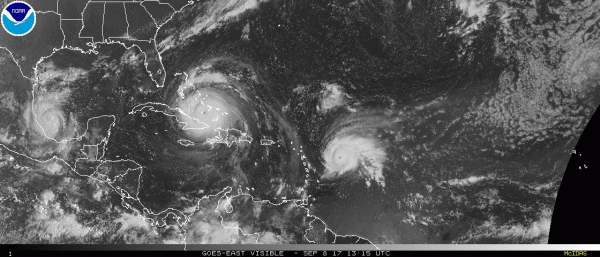 As of 11pm Friday, Hurricane Irma had regained Category 5 strength with maximum sustained winds near 160 mph. It was centered about 300 miles south-southeast of Miami, very close to the Camaguey Archipelago on the north coast of Cuba, moving towards the west at 13 mph. Hurricane Warnings and Storm Surge Warnings are in effect for most of Florida, as well as Cuba, with Hurricane Watches for much of the remainder of northern Florida. Its intensity into early Saturday will depend on how long it interacts with the Cuban coastline. Even it were to weaken a bit, it could very easily regain Category 5 status on Saturday, and will likely make landfall in Florida on Sunday as a Category 4 or 5 storm.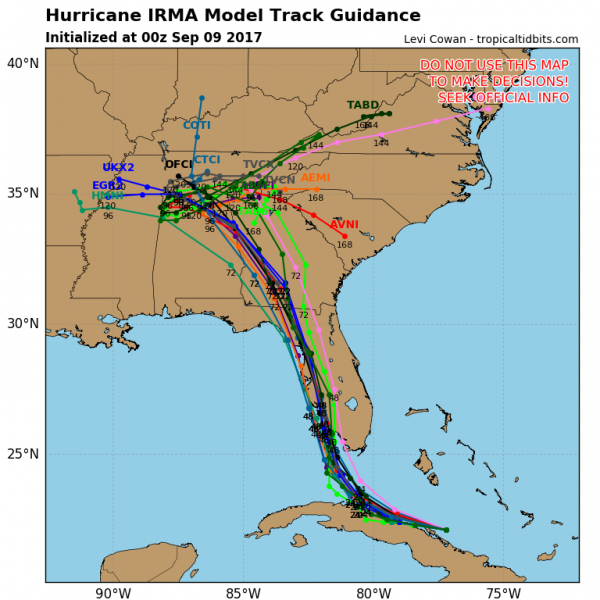 Irma will continue on a general west to west-northwest track early on Saturday, as it moves around the southern edge of a ridge of high pressure. At some point in the next 12-18 hours, it'll reach the southwestern edge of that ridge and make a sharp right turn. Exactly when that turn occurs is key to determining where it will make landfall. Right now, it looks it'll move across the Florida Keys, and then make landfall in southwestern or western Florida on Sunday. This may put cities such as Naples, Fort Myers, and possibly Tampa in the eyewall on Sunday. The current track brings the storm northward, which means that for Sunday into early Monday, the storm will head right up the west side of Florida. While it'll be weakening once the center is inland, it should maintain hurricane strength until it gets close to the Florida/Georgia border. That means, hurricane conditions for much of the state, except possibly the Panhandle. The worst conditions will be in the eyewall, just to the right of the center. With the storm heading northward, that means east of the center. some of these locations will see sustained winds of 100-125 mph, with gusts to 150 mph. Along Florida's heavily populated east coast, cities such as Miami, Fort Lauderdale, and West Palm Beach may be outside the eyewall, but will still see sustained winds of 60-80 mph, with gusts to 100 mph. Even places farther to the north, such as Orlando, may see wind gusts upwards of 100 mph. While flooding won't be on the scale of Harvey, rainfall totals of 8-16 inches and locally heavier are possible across Florida, which will lead to some flooding problems. In addition, storm surge of 10-20 feet will inundate portions of southwest Florida near where it makes landfall, with lesser storm surge farther to the north and along the east coast.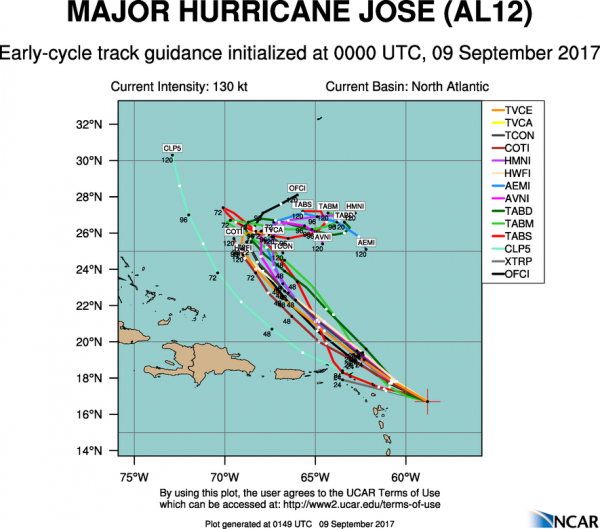 While all attention has been focused on Irma, Hurricane Jose has blown up into a Category 4 hurricane in the Atlantic. As of 11pm Friday, Jose was centered a little more than 265 miles east-southeast of the Northern Leeward Islands, moving toward the west-northwest at 14 mph. Maximum sustained winds are near 155 mph, which is just below Category 5 strength. Some fluctuations in intensity are expected for the next day or two. Jose should continue towards the west-northwest for another day or so before turning more towards the northwest. Unfortunately, that track will bring Jose very close to the islands in the northern Leeward Islands. These are the same islands that Irma just devastated a couple of days ago. Hurricane Warnings have been posted for many of these islands, with Tropical Storm Watches farther south and west. The Tropical Storm Watches do not indicate that weakening is expected. They just show that those islands should be far enough from the center that they will "only" receive tropical storm conditions, and not hurricane conditions. Once Jose gets past the islands, things get a little more murky. Jose should head into the open Atlantic and start to weaken, but it will also slow down, and perhaps stall as high pressure builds in to its north. By the middle of next week, there is plenty of disagreement among the models as to where Jose will go. Some models have the high pressure area retreating, which will allow Jose to head out into the open Atlantic. Others have the high pressure area strengthening, which would send Jose westward, towards the Bahamas and possibly the East Coast. It is too early to figure out which solution is more plausible at this point. So, we may be dealing with Jose at some point again next week.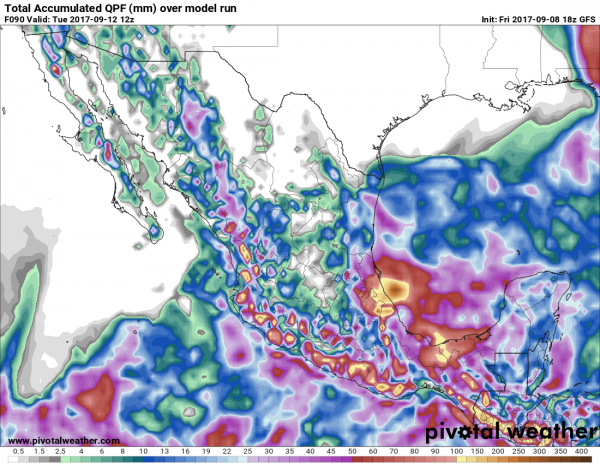 Finally, in the Gulf of Mexico we have Hurricane Katia. As of 11pm Friday, Katia was making landfall on the Mexican coastline near Tecolutla, about 115 miles northwest of Veracruz. Katia is moving toward the west-southwest at 7 mph and will continue to push farther inland overnight. After peaking earlier in the day as a Category 2 Hurricane, with top winds near 100 mph, Katia's top winds are down to 75 mph, and it should weaken into a tropical storm overnight. Katia should rapidly weaken on Saturday as it encounters the mountainous terrain of Mexico. While this will keep wind damage confined to coastal areas, it makes the threat of flooding and mudslides even worse. Rainfall totals of 10-20 inches and locally heavier are likely in this area over the next few days.
Another tropical wave will emerge from the coast of Africa this weekend. Several computer models show the potential for that system to develop as it moves across the Atlantic next week, so we'll need to keep an eye on that system over the next several days.