Hurricane Matthew rapidly intensified from a Category 1 Hurricane to a Category 5 Hurricane in the southern Caribbean today, making it the first Category 5 Hurricane in the Atlantic since Hurricane Felix in 2007. While the track for the next couple of days is fairly certain, there's plenty of uncertainty in what Matthew will do beyond the weekend.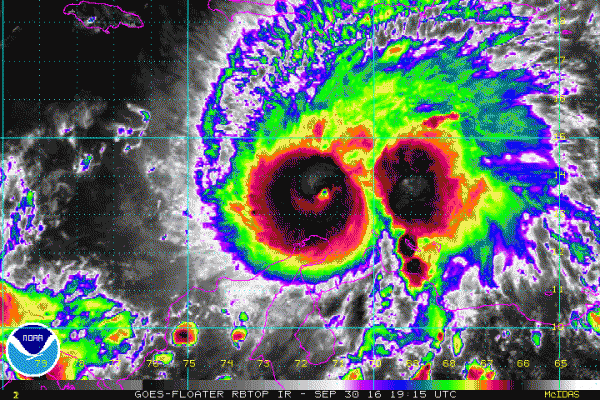 Here are the things that we do know: As of 11pm EDT on Friday, Matthew was a Category 5 Hurricane on the Saffir-Simpson scale, with maximum sustained winds of 160 mph.The storm was centered anout 440 miles southeast of Kingston Jamaica, and was moving towards the west at 7 mph. A Hurricane Watch remains in effect for Jamaica while a Tropical Storm Watch is in effect for Haiti from the southern border with the Dominican Republic to Port-au-Prince. A Tropical Storm Warning also remains in effect for the coast of Colombia from the Colombia/Venezuela border to Riohacha.
Matthew passed just north of the ABC Islands (Aruba, Bonaire, Curacao) and northern South America earlier on Friday, which is a fairly rare occurrence. There were a few wind gusts to near tropical storm force in Aruba and Bonaire early Friday, but for the most part, it's just been a breezy and cloudy day in an area that usually is sunny and warm. When Matthew crossed the island of Martinique a few nights ago, it produced sustained winds of 40 mph and a gust to 60 mph at the airport in St. Pierre, with reports of gusts of up to 89 mph on the island. There were several reports of damage across the island.
Now that we've gone over what we know, here's what we are fairly sure about: Matthew should turn more towards the northwest and eventually north this weekend as a powerful hurricane, with some fluctuations in intensity, as is normally the case with strong storms. Unfortunately, Matthew is expected to pass very close to Jamaica on Monday. It may even make landfall on the island. Even a glancing blow will likely result in widespread damage across the island. After that, Matthew should continue northward, and it will pass very near or over extreme western Haiti or eastern Cuba before heading into the Bahamas. Some slight weakening is possible due to interaction with the land areas, but Matthew should still be a strong hurricane (Category 2 or 3) when it enters the Bahamas.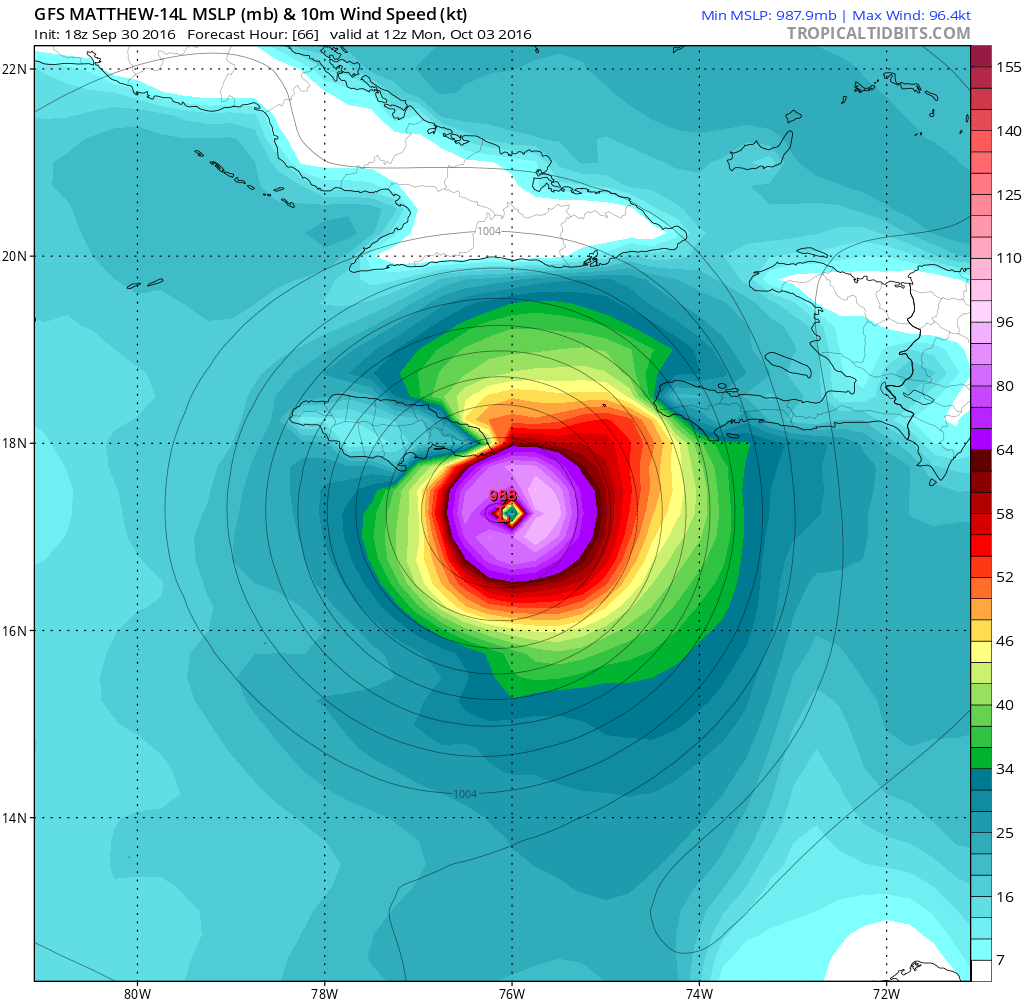 Now, the part that nobody knows with any certainty right now – what happens after Matthew gets into the Bahamas. This is the big question, and a lot of it has to do with what the upper-level pattern looks like. A trough of low pressure will be starting to move out of the Northeast while another one moves into the Great Plains. In between, a ridge of high pressure will be moving into the East. Exactly how quickly these features move eastward will determine which way Matthew goes.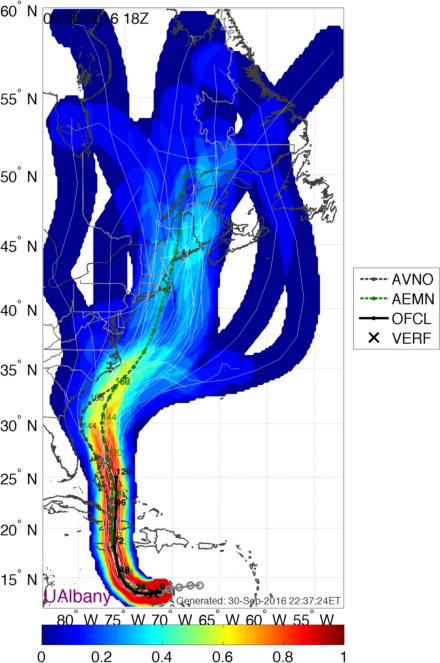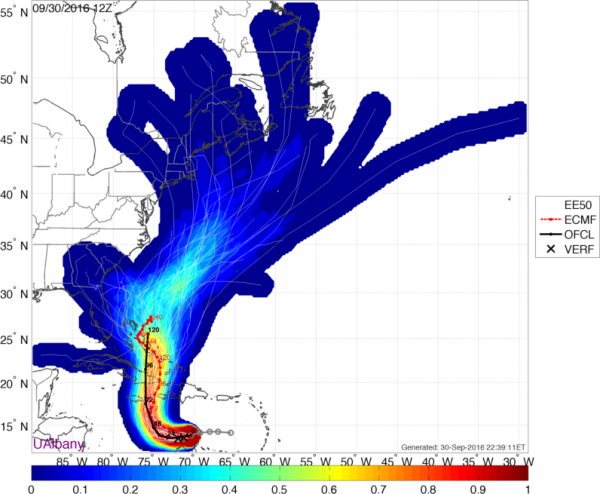 As you can see from the images above, there are dozens of possibilities as to where Matthew might go. Based on the most recent model runs, a track through the Bahamas and then northward off the Carolinas is the most likely outcome, but there are still some models that have the storm stall in the Bahamas or even drift closer to Florida or even possibly into the Gulf of Mexico. Once it gets up towards the Carolinas, there are even more possibilities to consider. The storm could continue up the coast and threaten the Northeast. It could start to turn northeastward and threaten Atlantic Canada. It could turn more east-northeastward and head harmlessly out to sea. At this point, there isn't really one scenario that stands out as more likely than any of the others.
At this point, we really have to wait and see how the pattern evolves before we'll have a better idea as to what Matthew is going to do.  So, if you are along the East Coast or have plans along the East Coast later next week, keep an eye on Matthew's progress if you have plans for that time frame.