On October 24, 2005, Hurricane Wilma, which at one point was the strongest storm ever recorded in the Atlantic Basin, made landfall near Goodland, Florida as a Category 3 hurricane with top winds near 120 mph. Wilma was the third hurricane and second major hurricane (Category 3 or higher on the Saffir-Simpson scale) to make landfall in Florida during 2005. The previous year, a total of 4 hurricanes (3 major hurricanes) made landfall in Florida. During the same two-year period, Major Hurricanes Katrina and Rita also slammed into Louisiana.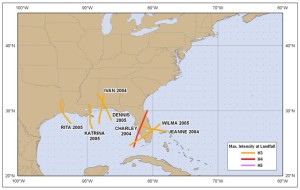 In the 10 years since Wilma's landfall, no hurricanes have struck Florida, and no major hurricanes have struck the United States as a whole. This 10-year lull in major hurricane landfalls is unprecedented since hurricane record-keeping began in 1851. The longest lull on record before this was a 9-year lull between August, 1860 and September, 1869. For Florida, the 10-year drought smashed the previous record of 6 years, set between 1979 and 1985.
While some may argue that the lack of landfalls is a good thing, in many ways, it's also bad. Reports have indicated that over a million people have moved to Florida since 2005, and the vast majority of those people have likely never experienced a hurricane, let alone a major hurricane.  They may not know how to prepare for a storm that could leave them without power for a week or more. They may not know what a mandatory evacuation means or if they are in a mandatory evacuation zone. They may not know where the nearest shelter is. (For Hurricane Preparedness Tips, visit the National Hurricane Center's Preparedness Page)
In the Northeast, the drought is even worse. While some may argue whether or not Sandy was a hurricane, it only gave New England and New York a glancing blow. The last hurricane to make landfall in New England was Hurricane Bob in 1991. The last hurricane to make landfall on Long Island was Gloria in 1985. Historically, this region gets hit by a hurricane once every 6 years, but it's been a quarter of a century since the last one hit. That means that there is an entire generation that does not know what it means to experience a hurricane in this region. As with Florida, it's a matter of when, not if, the next one will hit this region, and they are long overdue.
While most experts expect this to be a fairly inactive hurricane season, that does not mean the landfall drought will continue. By all accounts, 1992 was an inactive season with only 6 named storms, 4 of which became hurricanes. However, one of those hurricanes was Andrew – one of only 3 Category 5 Hurricanes ever to make landfall in the United States.