Tropical Storm Erika crossed the Leeward Islands early Thursday, and remains a weak system in the northeastern Caribbean Sea.
The center of Tropical Storm Erika passes in between Antigua and Guadeloupe around daybreak on Thursday. On Antigua, sustained winds of 23 mph with gusts as high as 39 mph were reported, while Guadeloupe reported sustained winds as high as 25 mph with gusts to 40 mph. On Saint Martin, a sustained wind of 31 mph with a gust to 47 mph was reported this afternoon.
The bigger story, however, has been the rainfall. In Dominica, nearly 13 inches of rain has been reported, leading to widespread severe flooding across the island.
The rain should slowly end across the island by tonight, but the cleanup will take considerably longer.
As for Erika's future, it remains a weak tropical storm that should pass just south of the Virgin Islands tonight, then head towards Puerto Rico and Hispaniola. The exact track that it takes near these islands will have a huge impact on its future. The longer it stays over the islands, the weaker it will be, and it could even dissipate completely. If it were to pass north of Hispaniola, it could survive, and then start to become better organized as it heads towards the Bahamas. Upper-level conditions should become much more favorable for Erika if it can survive the journey into the Bahamas. Most of the forecast models show Erika strengthening into a hurricane over the Bahamas, then turning northwestward or northward (see image below). By late this weekend, assuming Erika survives, it could be a significant threat to Florida and the Southeast. Residents from Florida to North Carolina, as well as the Bahamas, should keep a close eye on Erika's progress.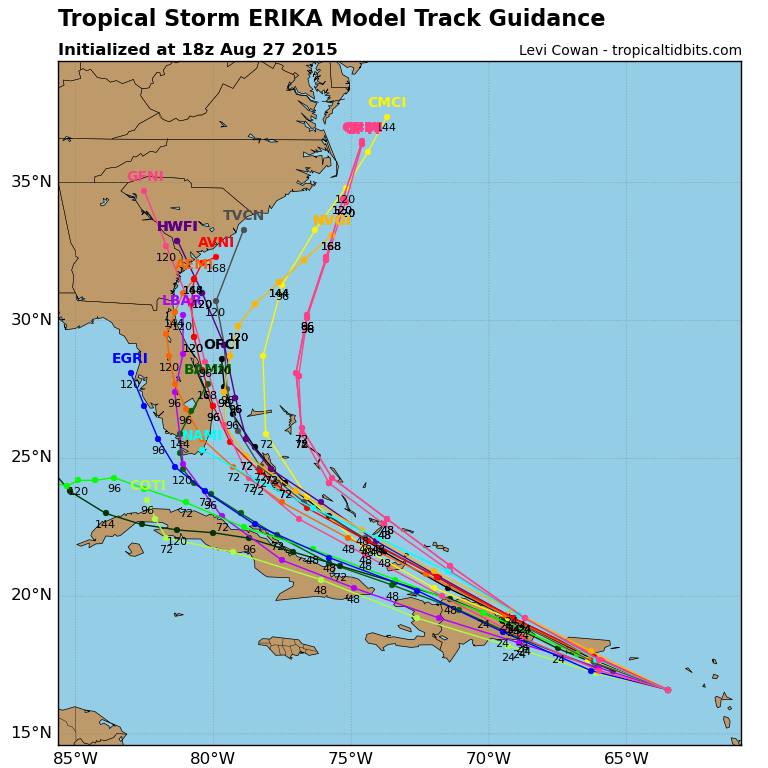 Meanwhile, in the Pacific, Tropical Storm Jimena is located about 900 miles southwest of Cabo San Lucas, Mexico, moving toward the west-northwest at 17 mph. Jimena has top winds near 45 mph, and is expected to steadily strengthen into a hurricane over the next 3-5 days while moving across the open waters of the Eastern Pacific.
The bigger threat is Hurricane Ignacio. Ignacio is centered about 1135 miles east-southeast of Hilo, Hawaii, moving toward the west-northwest at 13 mph. Ignacio has top winds near 90, and is expected to continue strengthening over the next 24-36 hours, before a weakening trend begins. The current forecast brings Ignacio just north of Hawaii by early next week. While several storms have threatened Hawaii this season, none have actually had any impacts on the state as of yet. Despite the good luck, residents of Hawaii and those will plans to head there over the next several days should keep a close eye on Ignacio's progress.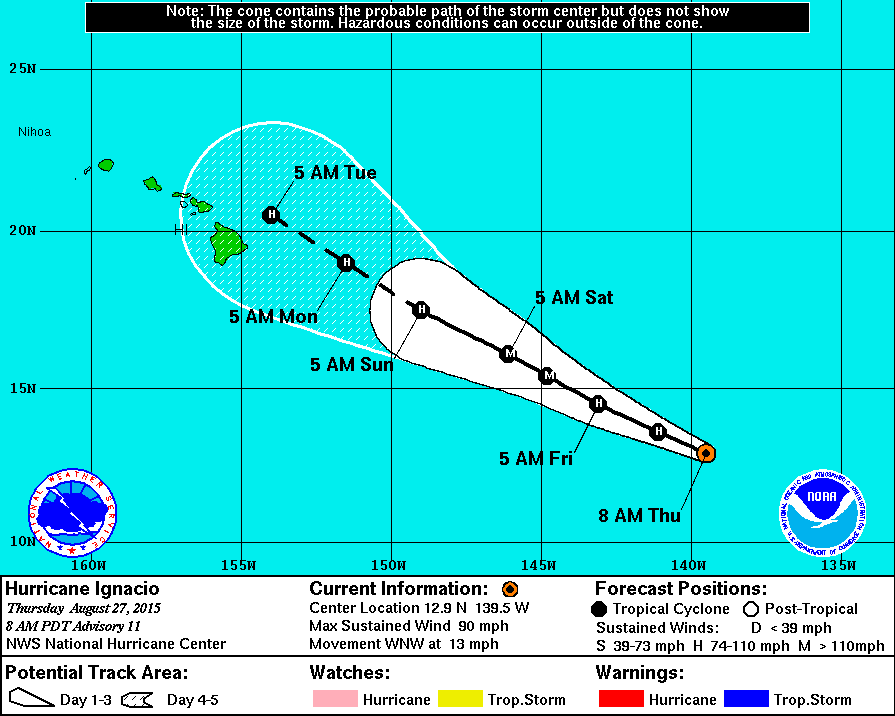 Elsewhere, the tropical remain quiet, which is good news, especially in the Western Pacific, where numerous storms have brought widespread damage and flooding to portions of the Philippines, Taiwan, China, and Japan over the past few weeks.