The US is littered with all sorts of weather for this weekend. The most hazardous weather has already been addressed in a previous blog post entitled, "Much Colder Air Headed for the Great Lakes and Northeast" and is all about the cooler temperatures and, combined with the scattered precipitation across the Northeast, snow; especially in the northern and western areas of the Northeast and higher elevations. A warm up is expected after the cooler air aloft moves offshore and warmer air moves in beginning this coming Tuesday.

Furthermore, a cold front moves onshore in the Western United States bringing showers and inland thunderstorms to an area that has been very dry this summer and has had numerous wildfires sprout. Between Saturday and Tuesday, a 3-day rainfall total of up to 3 inches is expected in portions of the Rockies with under an inch possible in other lower elevations. Still, southwestern California may remain dry as plenty of dry air remains around the region and may allow for evaporation before the rain reaches the ground. Some flash flooding is possible in the Southwest as the warm, moist flow continues to enhance showers and storms.  Some drought relief is possible this winter as a strong El Nino is developing. On average, California receives plenty of precipitation during El Nino events, so a dent may be made in its drought situation. In the 1997 strong El Nino, California received plenty of rain, but it was spread out over a long time period, which is the best case scenario, because it means less flood problems as opposed to when it comes all at once with ground that dry and stiff. A few quick events can help to moisten and open up the ground for future event and allow for some absorption of the water into the ground. With many of the smaller events, snow can still accumulate in the higher elevations, which helps the drinking water problem because of melt-water runoff once the winter is over. Of course not every El Nino is the same so it'll be worth watching this winter.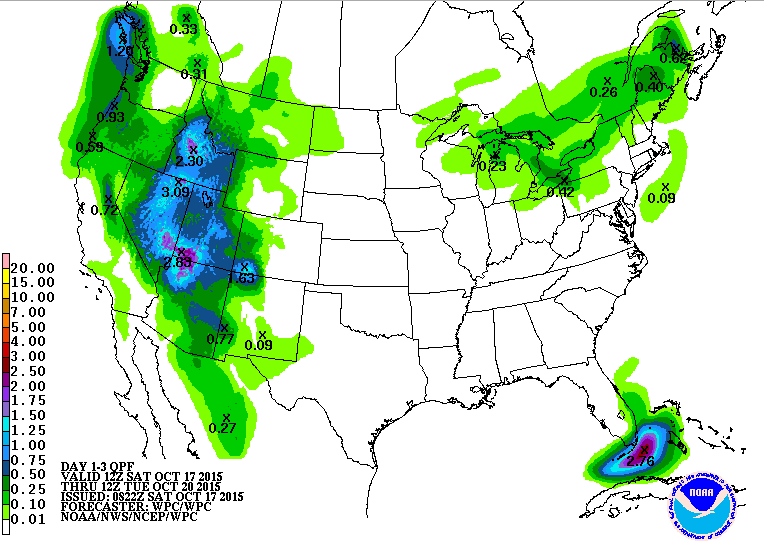 Over the oceans, the Atlantic remains quiet with only one area that could develop tropical characteristics. Even still the chance that that happens is low. It is near the Yucatan Peninsula and is associated with an area of low pressure nearby. Its proximity to land is not helping its development chances at all during the next day or so. Some tropical development is possible as it crosses back over onto water late this weekend or Monday. Even without tropical development, heavy rain is expected over Central America from the system. In the Eastern Pacific, Tropical Storm Olaf resides 1660 miles west-southwest of the southern tip of the Baja Peninsula. It has been affected by an area of high pressure, but that is set to weaken, which should allow a gradually slowing of speed and move more northward. Pressure centers and resultant stream flow allow for a continuation of a northward movement of Olaf especially by Tuesday, though gradually increasing northward movement is also possible starting today. In terms of intensity, shear currently around the storm is affecting it, but it isn't understood how much. It's thought that the shear is slowing the intensification so with shear expected to diminish by around Monday, intensification should occur to a major hurricane in the early work week. Another area of showers and storms needs to be watch especially by 5 days out or midweek next week for tropical development into a tropical depression as it moves westward away from the Americas. Further development of this system is likely.