Even though we're into the middle of November, it hasn't felt like late autumn across much of the nation. That's about to change, especially across the Plains states and the Midwest.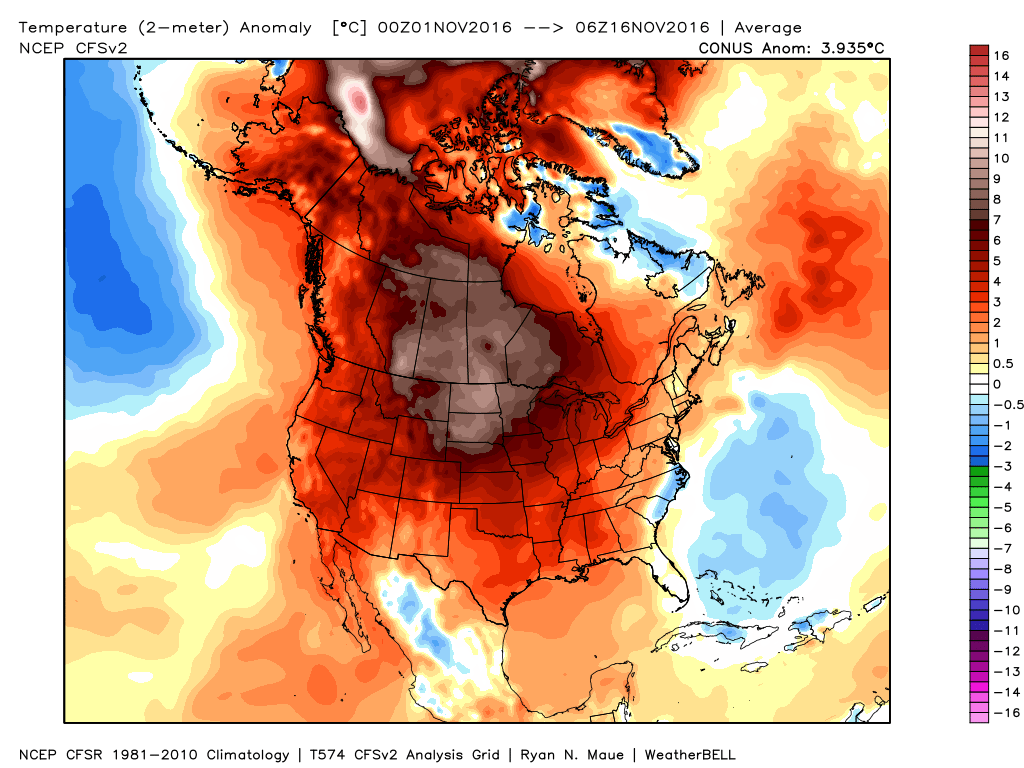 A storm system will move out of the Rockies and across the Plains states over the next few days. Ahead of the system, warm, moist air will be drawn northward from the Gulf of Mexico. High temperatures on Thursday will be in the 70s as far north as Iowa and Illinois, with record high temperatures expected across much of the Mississippi Valley. The warmth won't last too much longer though, as a strong cold front will be marching eastward across the Great Plains.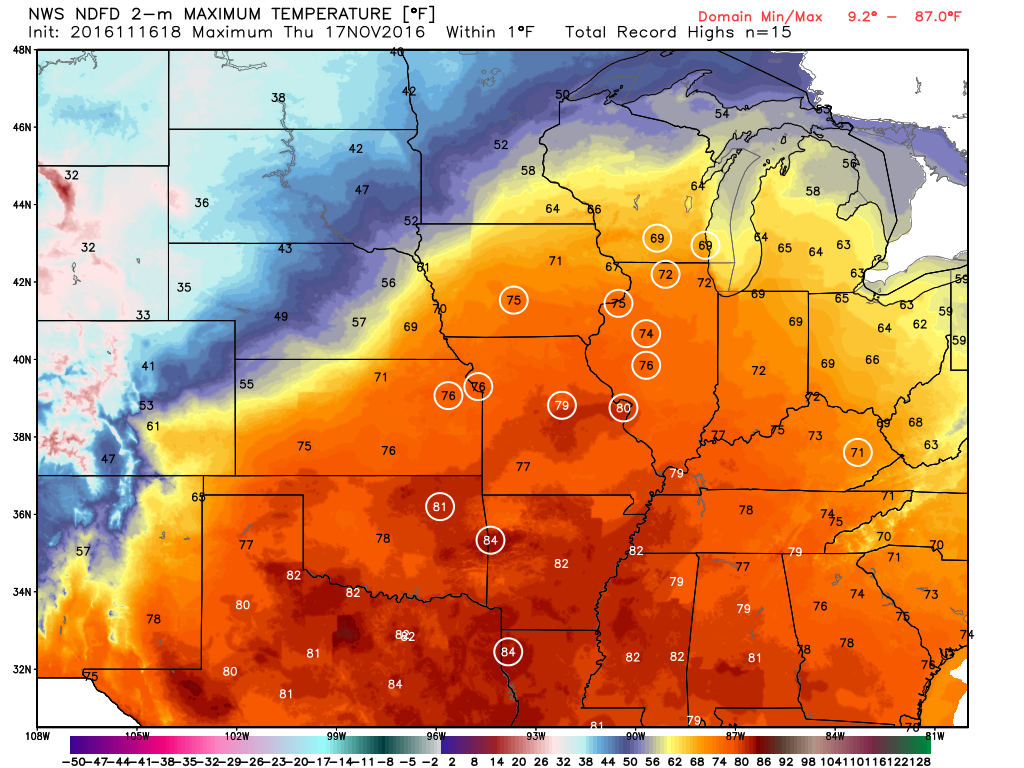 Behind the front, much cooler air will settle southward from Canada. With plenty of moisture being drawn northward, it will fall as snow on the backside of the low from the Central Rockies and Central Plains northeastward into the Upper Midwest. Some of the snow could be heavy, especially in parts of South Dakota and Minnesota, where snowfall totals of 10-15 inches are possible by Saturday evening. Winter Storm Watches have been posted from eastern Wyoming and northern Nebraska northeastward to Minnesota.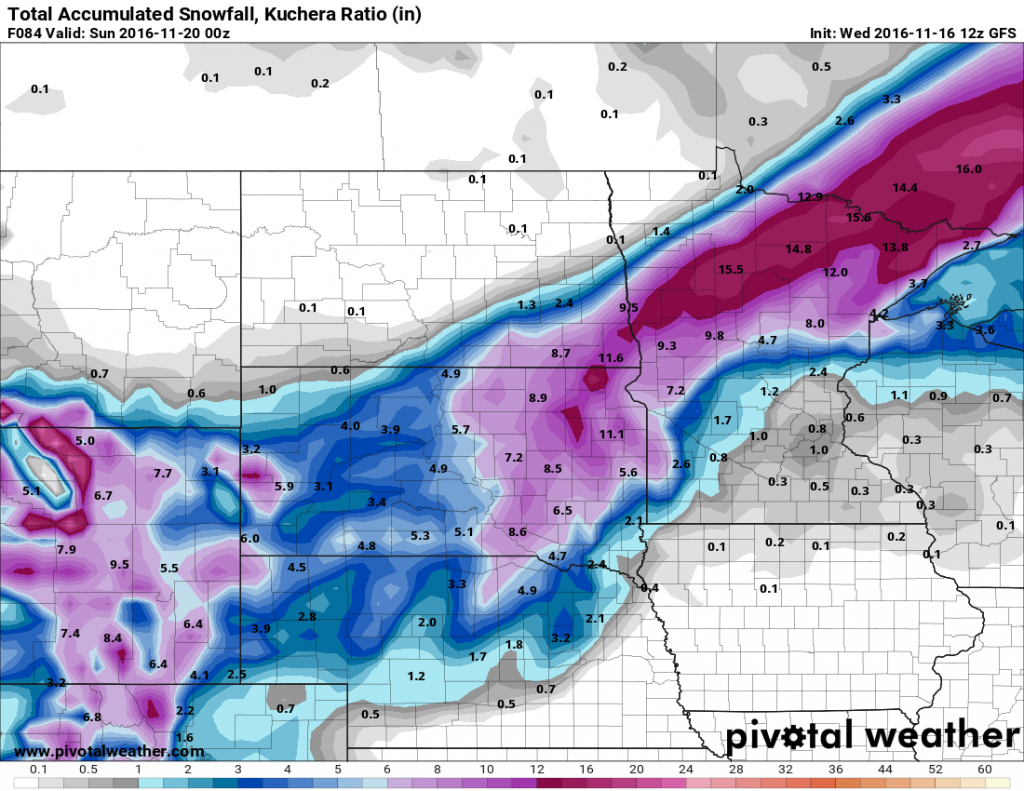 Snow isn't the only hazard with this system. As it strengthens, it will create strong winds across much of the Plains states. Sustained winds of 20-30 mph with gusts to 50 mph or more are expected, especially from the Dakotas into Nebraska. The combination of high winds and snow may result in blizzard conditions at times. A blizzard watch has been issued for southwestern Minnesota, northeastern South Dakota, and extreme southeastern North Dakota.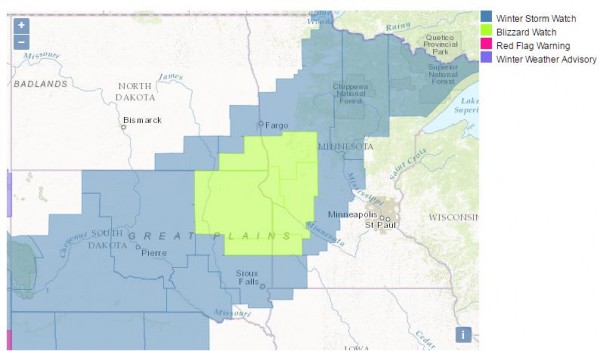 Once the system moves into southern Canada this weekend, some of the coldest air so far this season will settle into the region. While these temperatures aren't that unusual for late November, they will be quite a change from the recent warmth that has enveloped the area. Low temperatures will likely drop into the teens and 20s across the region this weekend, with single digits possible. In some of the locations with fresh snowcover some sub-zero readings are possible. The cool air will be short-lived, as temperatures will likely warm back up to above normal readings by early next week. Current indications are that the unseasonably mild weather will persist for the most part well into December across the region.