In a similar setup to last week, a cold front dropping south from the Pacific Northwest to the Southwestern United States signifies the upper level jet from the polar regions dropping south. At the same time, another upper level jet resides in the subtropics. These two will combine or phase and create enough energy to develop a low pressure system just east of the Rockies. As the storm gets going it will be able to wrap in cooler air especially on its western side and snow will be able to develop in the Southern Rockies. A general 1 to 4 inches are possible from Nevada to Western Nebraska and Kansas with higher amounts possible in the higher elevations. Wind gusts should be around 45 mph, but could be as high as 65 mph along in the higher terrain.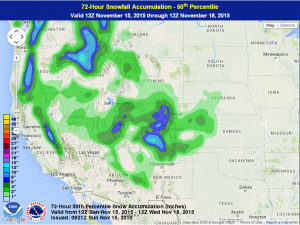 Meanwhile, on the eastern side of the low pressure system, warm and moist flow will be able to create enough instability and very strong wind energy and low level moisture should be available for thunderstorm development. On Monday, the area with the greatest threat is within the Southern Plains. The day's storm mode will probably include supercells, but should eventually evolve into a squall line type as the night overtakes the day. Tornadoes along with strong winds will be very possible with a few areas of hail with the day's storms and very strong winds and heavy rain will be possible with the nighttime squall line as the earlier discussed phased jets allow for strong winds that can get brought to the surface in the intense vertical motion within rainfall and thunderstorms. For Tuesday, the area with the strongest storms shifts east as the low pressure system moves northeast and its attendant cold front slowly moves east. The cold front will be the main driver of the thunderstorms for this time period and while the squall line will be the main story for Tuesday, some supercells ahead of the cold front can't be ruled out.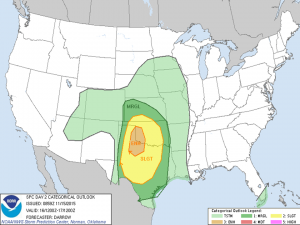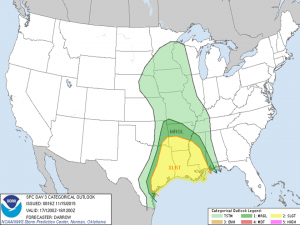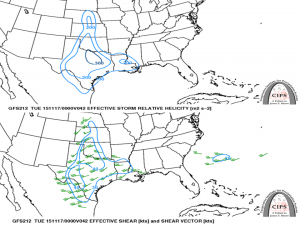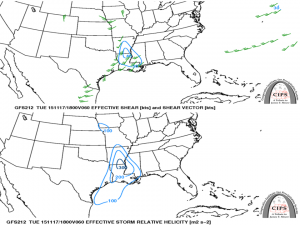 In addition to the severe weather and snow, rain is also possible near the low pressure system and both the warm front and cold front during this time period, especially in any thunderstorms. Because of the way the combined jet stream is situated and the added energy of the phased jet streams, the heavy rain will be situated in the lower Plains and lower Mississippi Valley regions. Over 5 inches is forecasted especially in the lower Mississippi Valley region, but that rainfall total could be higher in any thunderstorm.  Furthermore, previous consistent rainfall over northeast Texas allowed rivers within the headwater basins of the Neches and Sabine Rivers to remain swollen so the National Weather Service and River Forecast Center in the Northeast Texas area have indicated that those rivers in that basin could flood during this upcoming event.