Another batch of heavy, flooding rain occurred in Texas on Friday as strong low level winds flowed in from the south. Those winds combined with moisture that were both above normal for that region helped to aide in the development of strong showers over the region. Furthermore, a strong upper level jet was centered in the right place, over Texas, for strong large scale lift signified by strong upper level divergence. At one point, up to 10 inches of rainfall occurred in 2 hours in an area south of Austin, Texas. Many roads and bodies of water flooded with plenty of rainfall in a short period of time.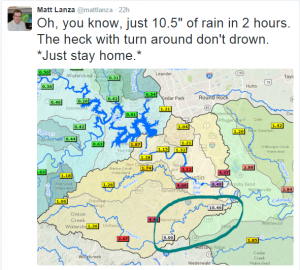 With all of this rainfall, one would have to assume that the drought would at least be alleviated somewhat, but unfortunately there is still drought to be contended with in the Texas. Even still, in one week, the rainfall has lessened some of the drought with some areas reaching as high as 5 classes of drought improvement in eastern Texas. Since October 20, Texas has seen as much as 20 percent of the state added to the no drought category in the drought monitor. At the same time, Texas now has none of its area in the highest 2 categories of the drought monitor. Even the areas with a class 2 drought have dropped into single digits for a percentage of the state. It still appears that around 28 percent of Texas is in a class 1 drought according to the drought monitor.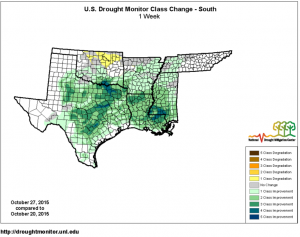 Also, strong shear near a warm front in the area combined with the already moist environment, allowed for numerous tornadoes within storms that formed inland as opposed to staying near the coast like last week's event. Because of the strength of the severe event, a tornado watch that lasted the entire day and a severe thunderstorm watch for western Texas were issued by the Storm Prediction Center. The severe thunderstorm watch for western Texas was for the southern portion of a strong squall line that formed a bow like feature in it signifying strong straight-line winds in that region.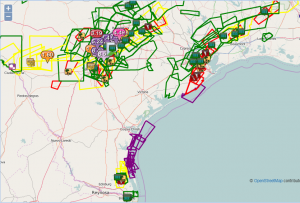 This area of low pressure will then move east northeast as the upper level trough that helps to create the forcing for the area of low pressure moves in that direction. During that time, it will leave a swath of 2 to 6+ inches of rainfall from Louisiana to southern Virginia. On Saturday, the low pressure system will continue to deepen, becoming a cold-cored upper level low pressure system and will have its winds, shear and instability die down along its east-northeast path as it moves more inland than it was Friday and Saturday.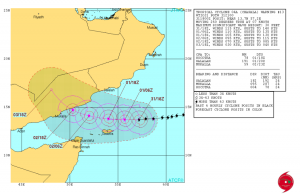 While the tropics in the Atlantic and Pacific remain quiet, the Indian Ocean is active. A storm named Chapala is located 475 miles south-southwest of Masira Island near Yemen and is moving west at around 8 mph. Chapala has an 4.5 mile diameter pinhole eye and appears unaffected by nearby wind shear. Being steered by a ridge of high pressure just to its north, Chapala will make landfall over central Yemen as it tracks northwestward. It will then weaken as dry air and shear erode the system and interaction with land tears it apart.