Drought conditions persist across the Western United States, in some places the drought is extreme. Because of the dryness, along with lightning from thunderstorms among other causes, wildfires have been sparked all over the region. A few wildfires have burned property including the well-known "Valley Fire" in California, which has even claimed lives.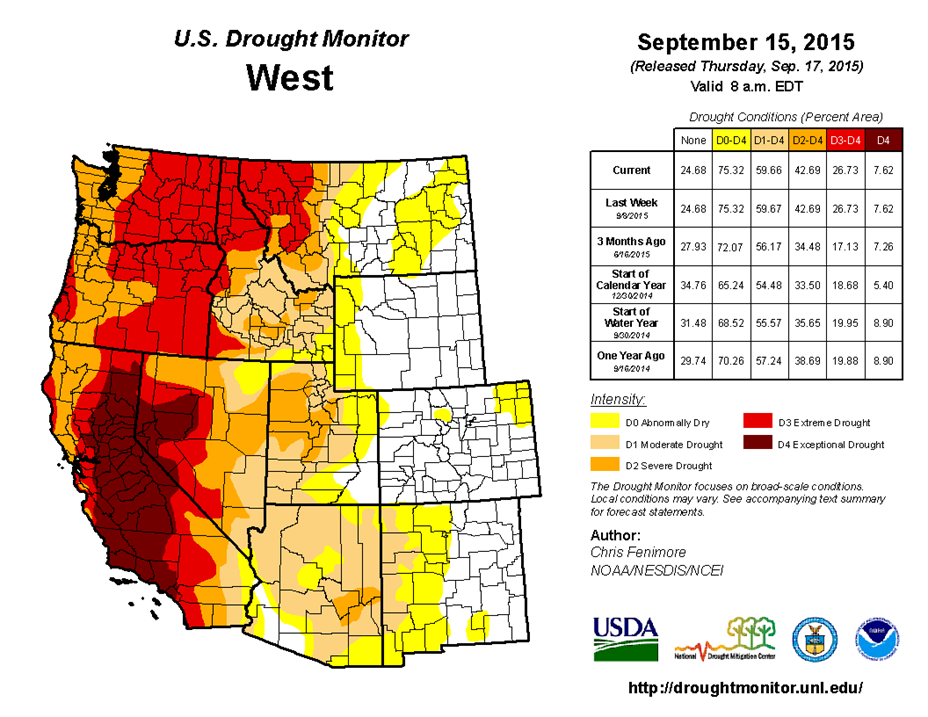 Some welcome relief was also seen this past week as a low pressure system and cold front moved onto the United States from the Pacific Ocean. This produced rainfall from the San Francisco Bay Area northward to Washington State. A report detailing the fire situation quoted an official with Cal Fire saying, "Crews have made continued good progress on several fires burning in California. A little bit of rain has helped along with cooler temperatures and higher humidity." Of course, as a cold front pushes through an area where a wildfire is ongoing, forecasters and firefighters are also aware of increasing winds and wind direction changes that may help to spread the fire even further.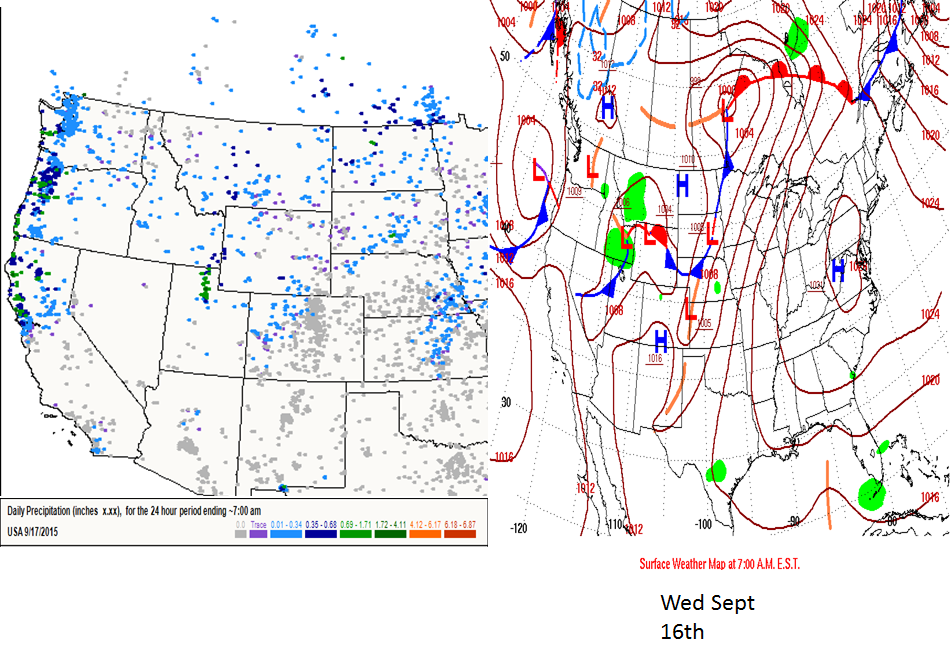 Elsewhere, as we get into the climatological peak of hurricane season, the tropics are becoming active again. In the Atlantic there are three areas that are being monitored. Tropical storm Ida is centered a little more than 1100 miles west of the Cape Verde Islands and is moving west-northwest at 14 mph. It has maximum sustained winds at 40 mph. Ida should remain a tropical storm for the next few days while crossing the Central Atlantic.
A little farther to the west. Tropical Depression Nine dissipated late Saturday afternoon. Conditions are not favorable for the storm to redevelop over the Central Atlantic. The third area being watched is an area of disturbed weather a few hundred miles off the Southeast coast.. There, conditions are marginally favorable for tropical development during the next few days. The system should move off tho the northeast, staying off the East Coast, with some strengthening possible.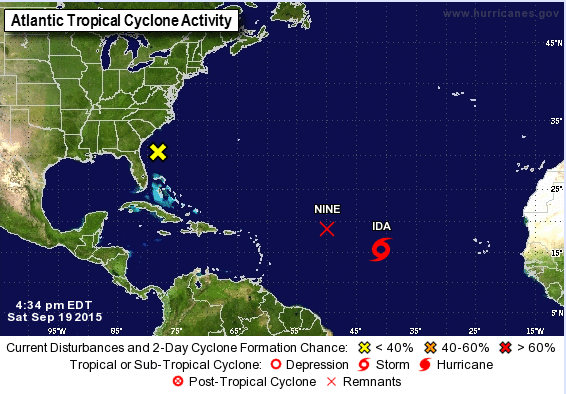 In the Eastern Pacific Ocean, an area of disturbed weather located about 275 miles south-southwest of the Cabo San Lucas, Mexico is being monitored for development. Some development is possible over the next few days, but the main threat from this system will be heavy rainfall across northwestern Mexico and southern portions of Arizona and California as the system moves toward the north-northwest.
In the Central Pacific Ocean, Tropical Depression Five-C is centered about 360 miles northwest of Johnston Island, moving toward the north-northeast at 15 mph. Top winds are near 35 mph, and some strengthening is possible over the next day or two. After that, gradual weakening is expected as the system moves across open waters.